Among Us Add-on 1.16/1.15+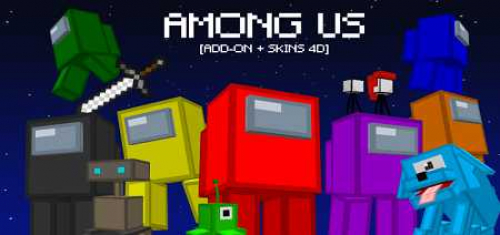 Have you played a game called Among Us? If so, then you probably know the characters of the game and if you would like to see them in the Minecraft world, then the new addon is exactly what you need. This addon adds to the world of Minecraft famous characters of the game Among Us, among whom there will also be impostors.

Players can choose a specific game character of a specific color and play role-playing games such as Among Us. The game will be available characters in twelve colors, namely:

1. Green;
2. Red;
3. Dark Green;
4. Purple;
5. Blue;
6. White;
7. Pink;
8. Cian;
9. Black;
10. Yellow;
11. Brown;
12. Orange.



Please note that the deceased player leaves the body of the selected character.



Players can also tame one of the characters from the game Among Us, for this use a bone. After the player has tamed this mob, he will follow the player and protect from other creatures, you can also sit him down.

As for the impostors, they are hostile towards the player and other characters in the game.

One of the additional features of this addon is 4D skins!



Players can use the skin of one of the characters from the game Among Us of a certain color, for this use the special /replaceitem entity command, followed by the text: @p slot.armor.head 1 (and the skin command).



Below you can see the skin commands:





Also, some pets from the game Among Us have been added to the Minecraft world. In general, only five pets are available in the game so far, namely:

1. Blue dog;
2. Wall-e;
3. Ellie;
4. Brainslug;
5. Henry Stickman!


Among Us Add-on 1.16/1.15+