Minecraft 1.16.0.58 for Android
The
new version
and new features in the Minecraft world are waiting for all Android users in the new update. The new full version of
Minecraft Bedrock 1.16.0.58
is available with the Xbox Live working, various bugs have been fixed, new blocks, structures, and new creatures have been added.
Features Minecraft Bedrock Edition 1.16.0.58
In the new update, players can see not only new structures, mobs, and mechanisms but also blocks, one of which is Lodestone.
For example, in the Minecraft world, players can now find creatures such as zoglins, create items using very rare material like Netherite, and also find a new enchantment Soul Speed.
Have you heard of a new enchantment before? If not then we will tell you what it is. As you might have guessed from the name, this is an enchantment that allows players to move faster through the sand of souls.
How does it work?
It is easy, all you need to do is use it for your shoes.
New music. For the first time, music for Minecraft BE 1.16.0.58 was not written by the famous C418, who wrote the original soundtrack, but by another composer. This time Lena Raine became the composer of three new tracks. She worked on the musical accompaniment of the 2018 Celeste platformer.
Not many players know that such material as Netherite existed in the Minecraft world earlier, but unfortunately at that time, players could not use it to create some kind of item or block. From now on, players have this wonderful opportunity. All you need is material and a Smithing Table.
In order to get unique and cool equipment, or you can take any diamond item and add Netherite to it.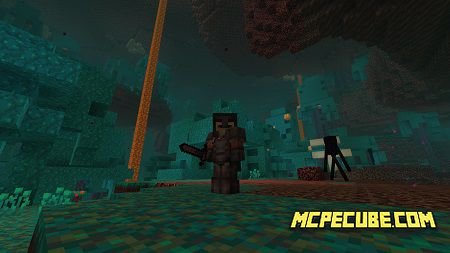 New peaceful creatures called Striders. Players can ride these creatures overcoming lava seas. Players can ride the Strider just like a pig, but in the case of this creature, you need to use a fishing rod with a mushroom instead of a fishing rod with a carrot.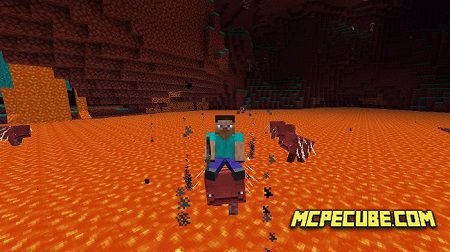 It's very simple, just place a saddle on this creature and pick up a fishing rod. This will allow you to overcome the seas of lava in Minecraft 1.16.0.58.
In this beta version of Minecraft Bedrock Edition 1.16.0.58, the developers of the Mojang studio changed the behavior of the Piglin. Now they can both attack and avoid battles, depending on how many creatures are nearby.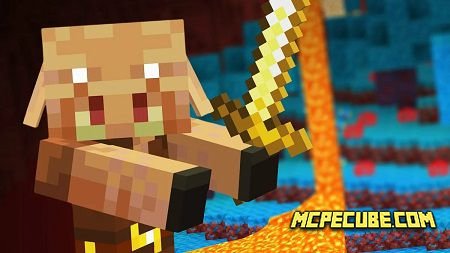 In the MCBE 1.16.0.58 update, the Jigsaw block functionality was added. This is a technical block that is used to generate various structures.
Minecraft 1.16.0.58 for Android