Minecraft PE 1.16.0.64 for Android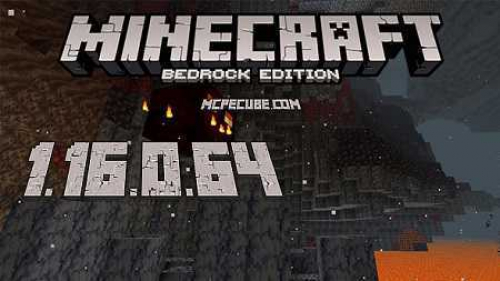 You've been waiting for this for a whole week, and here we present to you a new version of Minecraft PE 1.16.0.64! As usual, this update is available to all users of Android devices as well as Xbox Live. In the new update, new changes in the gameplay, bug fixes, fixes of various crashes, and much more are waiting for you, which makes the new update one of the best in recent times.



What has changed in MCPE 1.16.0.64 Nether Update?



In general, this beta version of Minecraft Pocket Edition 1.16.0.64 fixes more bugs, but this does not mean that the developers of the Mojang studio did not pay attention to other aspects of the game.

A good example is work on improving the graphics and the speed of its loading. All textures of mobs, items, and blocks are now loaded much faster and more correctly than before in previous versions of Minecraft.



Perhaps earlier you noticed when your character fell, some gray particles appeared, if so then this happened because there were small errors in the game engine.

As for the mobs in the Minecraft world, the new version of Minecraft Bedrock Edition 1.16.0.64 has some changes related to the living creatures of the game. For example, healed villagers can now breed again.



We draw your attention to the fact that in order to breed villagers you need to create favorable conditions for this, namely to create many beds and have a lot of food with you.

Also in Minecraft PE 1.16.0.64, a bug was fixed due to which some mobs got confused in directions and could either just stand still or spin all the time. Mojang developers said they fixed this bug.

The behavior of rabbits has been fixed; henceforth, they move correctly. Previously, rabbits jumped either too low or too high. In Minecraft PE 1.16.0.64, this issue has been fixed.



Fixed a bug in the behavior of mobs when loading new chunks. Mobs forgot their behavior when loading a new chunk. Very often, this negatively affected the game algorithms in Nether Update.

A good example of this will be the Piglins who, due to the aforementioned bug, stopped hunting for hoglins. In some cases, they could even begin to attack the player in gold armor, which completely contradicts their behavior.

In addition, the game also has small changes that relate to in-game sounds. Many players complained that many mobs made different sounds that did not match them. For example, Striders made the sounds of pigs or other creatures.



The new Minecraft PE 1.16.0.64 update will appeal to the creators of mods and maps for passing with different game scenarios. From now on, the options for customizing the game have become even wider and more interesting. The developers of the Mojang studio did this so that the game was not only comfortable for the players and the game as a whole, but also for creating new exciting content.
Minecraft PE 1.16.0.64 for Android