WarShip Map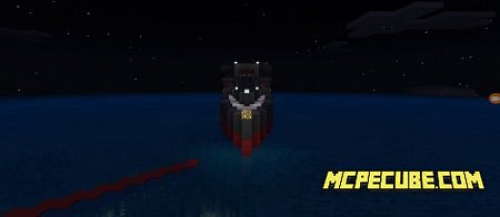 Glad to welcome you aboard the Fallaydin! This is a warship that was originally supposed to be a ship similar to Yamato. It is so large that it has its own underground base, ten working riflemen, a separate area for the captain, six floors and a large number of different ammunition. It consists of more than 10,000 blocks.


How does it work or how to play?

Before you start the game, you definitely need to download the WarStuff texture pack. In order to check if your texture pack is working, you need to open the chest in the place where you spawn. After opening the chest there should be a weapon, if it is, then everything works correctly. In this game you will need two teams, one will play for the crew of a warship, and the second will be U.S Fighter Jets! For the crew of a warship, the task will be to collect as many supplies as possible in chests, such as food, weapons, and so on. The other team should have a rocket launcher and grenades.

If you shot down a member of the second team you still have 5 HP left and you can still continue to fight. Show your skills and creativity. The goal of the second team is to destroy the ship. The first team should remain inside since in general, they have only two lives. Have a fun game!

General map information

The creator took four days to build this map. This map is not finished yet, in the future it will be updated. At the moment, this project consists of more than 10,000 blocks.

Additional information about the warship:

— The warship is not fully armored;
— The map was created for the game version Minecraft PE 1.13;
— Shooters must fill dispensers with arrows of Harming II. After that, they will be able to kill the player and break the blocks.