Better Trades Add-on 1.20+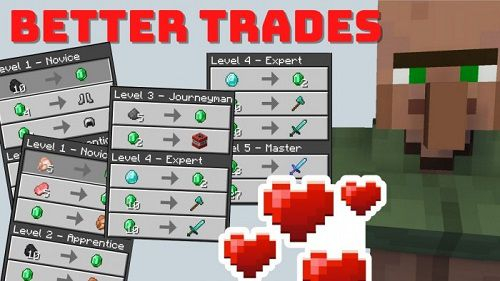 The Better Tradesaddon enhances your interactions with villagers, making the trade experience more convenient. It introduces adjustments to the available items, ensuring that they are readily accessible.

Moreover, prices are set at a more favorable level compared to the standard rates. Additionally, the wandering trader has received significant improvements, enhancing your overall trading enjoyment.

Description

This mod introduces new interactions and trading features for villagers. Transactions become much more logical and attractive.

• Farmers now exhibit a greater appetite for various types of food items.
• Cleric mobs can exchange spider eyes for a potion, which is a very good deal.
• You can purchase special arrows from Fletchers that will enhance the effects of archery.
• StoneMasons have broadened their horizons and are now eager to exchange cobblestone.
• As an intriguing twist, WeaponSmiths now facilitate the acquisition of TNT.
• Furthermore, the wandering trader has been granted an assortment of more uncommon items, intensifying the thrill of your encounters with this itinerant merchant.



Changes in the new version

• Compatible with the latest Minecraft 1.20.
• Improvements to trade offers with mobs.
Better Trades Add-on 1.20+