NinjaCraft Add-on 1.15/1.14+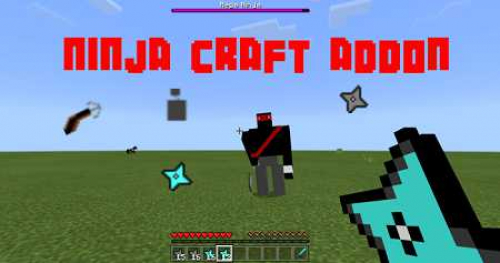 Have you ever dreamed of being a ninja? If so then this addon is what you need. The new addon adds new ninja items to the world of Minecraft. Play as ninjas using items such as smoke bomb, shuriken, and Grappling Hook. New items and your ninja skills will make you a real ninja warrior.

We draw your attention to the fact that you need to activate the Experimental game mode!



How does it work?



In order for the new addon to work correctly, you need to install this addon for your world, use the command block, and use the text shown below in the screenshot:



Done, the addon is ready to use, everything is very simple!

Below we will look at new ninja items and crafting recipes with you:

1. Smoke bombs that can blind your enemy:



2. Grappling Hook:



3. Iron Shurikens that can deal 8 damage:



4. Diamond Shurikens that can deal 10 damage:



In addition to new items in the game, you can also add a new creature, namely the Iron Golem Ninja! This is the boss you can fight for a better experience. To summon the boss, use the special command /summon with the following text: iron_golem. Iron Golem Ninja has 300 health points. Attacks players using shurikens.


NinjaCraft Add-on 1.15/1.14+