Emerald Tools Add-on 1.13/1.12+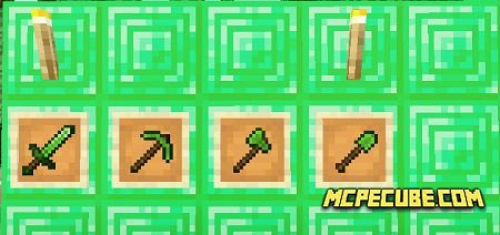 Everyone knows what an emerald is in the Minecraft game, but what if you have it and don't want to sell it? In this case, we present to your attention an addon that adds 4 new types of weapons from emerald and forgets about the old diamond sword and other types of weapons from the diamond.

In order to get a new weapon, you need to craft it or use the / give command.

It is not difficult to craft them, this process is the same as it was before for other types of tools, such as gold, iron, and others.

Below we will consider with you detailed information about what you need for crafting (in the images) and what we get at the end.

Each weapon, no matter what it will be, gives you an additional acceleration effect 3.


Emerald Weapon:

1. Shovel

Attack Power 2.



2. Pickaxe

Attack Power 3.



3. Ax

Attack Power 4.



4. The sword

Attack Power 4.


Emerald Tools Add-on 1.13/1.12+