Amethyst Ore Add-on 1.16/1.15+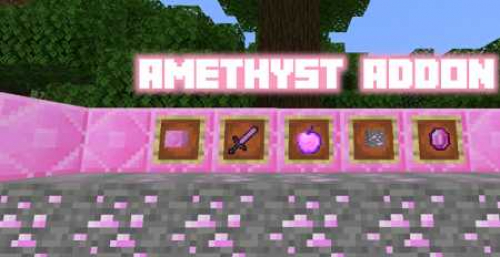 Have you ever mined an ore like Amethyst? Do you like this beautiful and unique ore? If yes, then this add-on is exactly what you need. The new add-on allows players to craft a new amethyst sword, amethyst block, and an enchanted amethyst apple. Let's take a closer look at where to find this ore and how to craft new items.



How do I find Amethyst Ore?



In order for the player to find Amethyst Ore, you need to carefully explore the surrounding layers, the ore is generated in layers from 1 to 16 in a Y coordinate grid and a position of 0.16. Most often, players mine ore in layers on layer 12. Please note that lava will also be nearby, so be careful when you mine ore as lava is generated in layers from 4 to 10.

Don't forget to activate the Experimental Game Mode!



When a player mines Amethyst Ore, it drops two Amethysts.

Below you can see new amethyst items, crafting recipes and their features:

1. Enchanted Apple Amethyst: Gives the player additional effects of regeneration for 1 minute; resistance and fire resistance for 8 minutes. Crafting recipe below:



2. Amethyst Sword: A powerful enough weapon, has a durability of 800 and can deal 12 damage to the enemy. Crafting recipe below:



3. Block Amethyst: Crafting recipe below:


Amethyst Ore Add-on 1.16/1.15+