Pink Dolphin Add-on 1.13/1.12+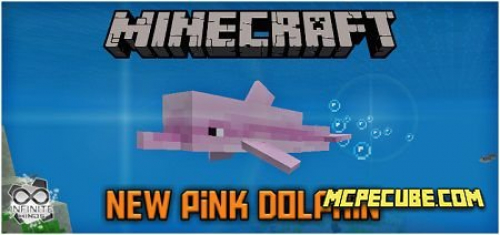 A new addon that adds new and beautiful animals, such as dolphins, but not simple, but Pink Dolphins! New dolphins will be added to the ocean of the world of Minecraft, which will give it more realism and fun. In order to see these amazing animals you can after plunging into the ocean of the world of Minecraft. The player can meet these animals in almost any ocean in the world of Minecraft except frozen!

Please note: In order for your Addon to work properly, use experimental gameplay!


How does it work?

The behavior of the pink dolphin is no different from the usual dolphin. The task of this addon is to diversify the underwater world by changing the color of dolphins familiar to us in the ocean.

The player can feed the animals with cod, and then follow them. Dolphins can lead you to new and exciting places, such as shipwrecks or ruins.

Description of dolphins:

— You can find them in any of the available oceans, except frozen;
— When attacked, it can be quite aggressive;
— Attack: 3;
— Health: 10;
— Drops 1 cod.


Pink Dolphin Add-on 1.13/1.12+