Humanoid Villagers Add-on 1.13/1.12+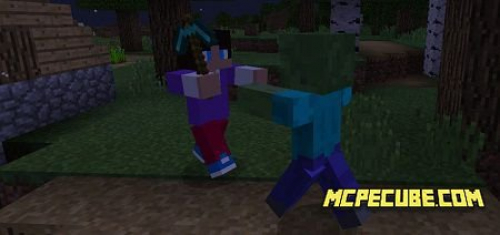 A new addon that changes the behavior and appearance of the villagers. The villagers familiar to us will become much smarter and much stronger. This gives them the opportunity to defend their villages on their own against zombie attacks. After the zombie inflicts the first damage to the villager, he will take out weapons and defend himself. From now on, the player can, together with the villagers, fight against enemies in the Minecraft world.


How does it work?

As already mentioned, the appearance of the villagers has been changed, which means that now they will look like players. Remains unchanged their way of movement and sounds.

As soon as the zombie hits the villager, he will take out weapons and begin to defend himself. The entire line of villagers' weapons will consist of the diamond, for example, it can be a sword, pickaxe, shovel, and even a hoe. Using these types of weapons, they can easily resist the forces of evil. A villager will attack all nearby zombies in order to protect his village.

With the new abilities of the villagers to repulse the attack will not be so long, even if the forces of evil appear in large numbers.

The advantages of the new villagers are that they have more health and are much stronger than their enemies.

After death, he will drop items ranging from ordinary carrots to diamond armor.


Humanoid Villagers Add-on 1.13/1.12+