Minecraft 1.13.0.18 for Android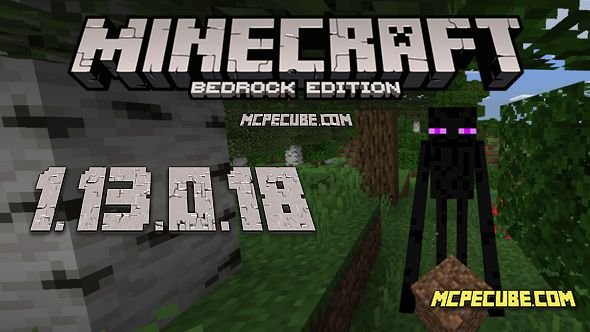 The new
Minecraft Bedrock Edition 1.13.0.18
update for Android is available, where any player can play with new mobs, additional features, blocks, and even an available working version for Xbox Live.
What new can we get in the new version of Minecraft PE 1.13.0.18?
As in all previous updates, this update will have already fixed errors that will help to make our gameplay more comfortable and enjoyable. After the stunning Minecon 2019 where a large number of changes were expected that the developers of the Mojang studio are planning to release a new release that will be called
Minecraft 1.13.0
!
Many people know update 1.13 for adding new mobs, functions, and objects, such as foxes, wither rose and character editor.
What new mobs will be added?
Each global update always added at least one new mob, but this time, two different species of animals were added, such as Foxes and a new species of Cows.
What do we know about foxes?
These animals usually live in forests, or rather in forest biomes. They look very cute, have a red color, or white (spawn on another snowy biome) and not large. In relation to the player, these mobs are not dangerous and themselves avoid meeting with the player. Unfortunately, they cannot be tamed but can be propagated using berries.
These animals can take various poses, for example, if the fox crawls under the blocks it will take the form of lying for sleep or it will just sit. From the outside, it looks very funny.
Most often they are in motion or rather running, they also often hunt for mobs that are smaller than them, that is, to small mobs. You may have already seen something like this in the game earlier, so we won't see anything new in their behavior.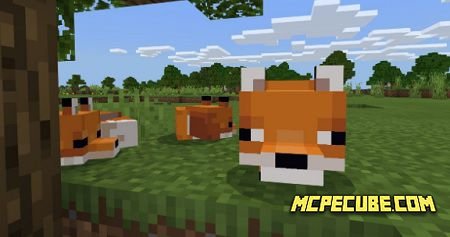 What do we know about cows?
In the updated Minecraft PE we will see a new type of cows, namely mushroom cows. or as they are called Mooshrooms. They have brown color. A ridiculous fact: the developers added this animal only because the players began to accuse the developers of discrimination against brown mushrooms. A player can get such a cow only after lightning hits an ordinary cow.
Players can trim it to get brown mushrooms, and you can milk it to get Suspicious Stew.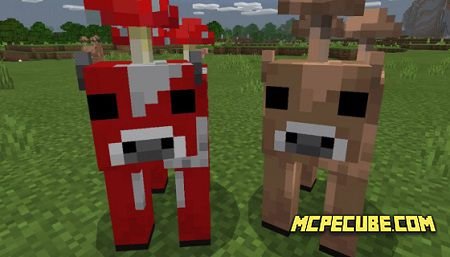 Wither rose
In Minecraft Bedrock Edition, developers have added a new flower called Wither Rose. This flower is dangerous enough for all living creatures as it is able to kill. In its form, it is one of the most unique plants. Appear after killing Wither Boss.
Please note: if any living creature stands on these plants, it will receive damage and the withering effect.
Players can use this flower as a trap against other players or kill mobs.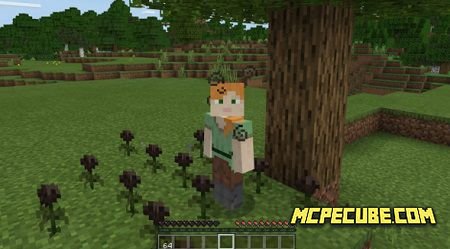 New features in the game
For decoration, the ability to set
Minecraft 1.13.0.18
horizontally, namely the frame, was added. More precisely, it can be placed on the floor or ceiling. This feature was added at the request of many players. By the way, this is proved by the fact that the developers carefully study the problems and listen to the requests of the players!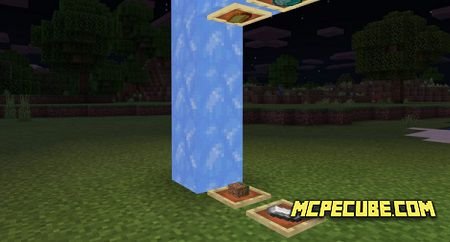 Skins Editor
On the servers of Minecraft PE, it was always possible to set some kind of skin and thereby stand out from the crowd with their unusual appearance. But today, a new skin editor feature is already available. This feature allows players to completely change the look of their character.
From now on, the player is able to create his own unique character using numerous free details. At the moment, there are skins and parts/body parts and clothes that will cost a certain amount of money, but their price will vary from 1 to 2 dollars. More than 100 parts of a body part or clothing and accessories will be free!
What has been changed in Minecraft Bedrock Edition 1.13.0.18?
Let's consider the most significant corrections with you:
— World loading and performance have been improved;
— Correct display of Ender Crystal;
— Visible objects in the mouth of foxes;
— The length of the fox jump was fixed, it was reduced from 11 to 5 blocks, which in general can now correspond to the Java version of the
Minecraft
game;
— Working command /particle;
— All skins created in the Character Editor will be saved;
— Fixed a large number of errors related to crashes from the game!
Minecraft 1.13.0.18 for Android