Minecraft PE 1.20.40.21 for Android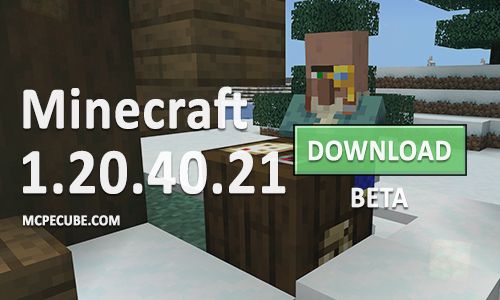 The Mojang company presented players with a new beta version of Minecraft 1.20.40.21. And in this update, we were introduced to the game with a bug fix and cool innovations related to Explorer Cards and changes to make the two versions similar.

Experimental Features

Updated Explorer Card properties:

• Cartographers' maps can indicate structures.

Similarities with Java

• Updated dive sound and playback time.
• Changed the color of the boss's HP stripes.
• Changed splash sound.
• Camels can no longer run in lava or on water.
• The Iron Golem no longer appears in places where the height is less than two blocks.

Corrections

• When blocking Arrows with a Shield, the effects are not applied.
• Villages work correctly in dimensions.
• The bucket is filled with waterlogged blocks in water.
• The dash button for the Camel is displayed correctly when playing with a joystick.
• When using the sensor, the buttons are in the correct places.

Technical updates

Added several changes to optimize gameplay and improve the experience of testers.

We kindly ask you to make backup copies of your worlds when installing the test version of Minecraft, so as not to lose your progress.
Minecraft PE 1.20.40.21 for Android