Minecraft PE 1.20.50.23 for Android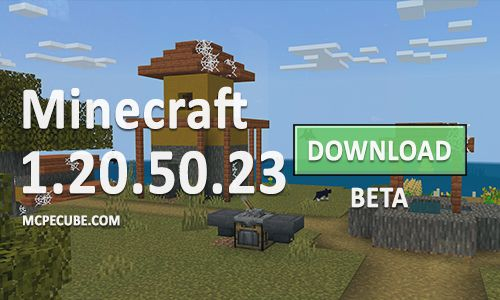 The latest beta version of Minecraft Bedrock 1.20.50.23 is available for Android device users! In this update, the developers made several improvements to the gameplay and surprised us with cool innovations in the form of new crafts in experimental gameplay.



New content



To ensure that all testing features work, enable all experimental gameplay before creating a world.
• Players can now craft new copper items, including oxidized ones, using recipes.
• Textures have been updated for new blocks.



Innovations



The following changes have been made:

1. Players now have the ability to offer items from the Dressing Room on servers.
2. A parameter has appeared that can be used to determine the vertical movement of a player in the world of Minecraft.
3. Introduced some updates to the menu.



Corrections



• Chorus Flowers can be destroyed by any projectile.
• Added ways to obtain Calcite in creative mode.
• Restarting the game does not affect the switch positions in the inventory.
• When touching the ground while flying, the player continues to fly at the same speed.
• Problems with squatting in water have been fixed.
• Notifications with errors work correctly.
• Hotbar is less transparent.
• Screens have dark background properties.
• Set up work in the In-Game Market.
• The maturation of mobs does not affect their ejection from Boats.
• The correct transition occurs when you click the Pop-up window with information about classic skins.
• Realams are working again.
• The borders in the menu are highlighted again.



Technical update



This version contains more than 5 new updates for developers and content testers for Minecraft.

We kindly ask you to make backup copies of your worlds before installing test versions, in order to avoid loss of game progress!
Minecraft PE 1.20.50.23 for Android