Minecraft PE 1.16.0.67 for Android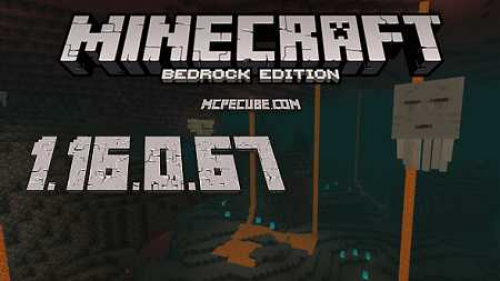 Users of Android devices, we are pleased to announce the release of a new version of the beloved Minecraft game, namely Minecraft PE 1.16.0.67. New changes, added new ore, as well as improved gameplay.

The new Nether Update has even more interesting and most importantly useful changes that make it even better.



What has changed in Nether update MCPE 1.16.0.67?



The new Nether game update Minecraft 1.16.0.67 introduces new bug fixes, as well as new ore and improved gameplay.

The developers of the Mojang studio first focused on problems related to Nether Update. Therefore, new interesting content was added and work was done on fixes in the Nether world. In addition to this, the Mojang developers turned their attention to other aspects of the game. Let's look at what has been changed.

The first thing I would like to draw your attention to is a new material called Netherite. This is a new unusual material that will be difficult for you to get, but it's worth it. Its unique abilities make this ore rarer and more valuable than a diamond. We recommend that you try to get full gear using a new material called Netherite. How to do it?



It is not easy, but we will tell you how:

1. First, you need to get the necessary ore, namely Ancient Debris that is generated in the Nether world;
2. Secondly, you need smelt Ancient Debris to get Netherite Scrap;
3. The third stage is to combine four pieces of scrap with four ingots of gold on the crafting table;
4. And the last step is to use the Smithing Table to combine any diamond tool with a Netherite ingot.

Everyone knows the new mobs that have been added to the Nether world. Mojang developers are constantly trying to improve their behavior and AI. We remind you that the new mobs are Piglins, Hoglins, and Striders.



Each new creature has unique features, for example, Hoglins drop pork after death and are the only food source in the Nether world.

As for the other mobs from Overworld, the developers of the Mojang studio added several new improvements to the new update, namely:

1. Fixed jumping of such mobs as rabbits, now they jump correctly;

2. Change in the conditions of the mob, whether it is an aggressive condition or neutral, now it does not cause crashes.

And the last are bug fixes! Minecraft update 1.16.0.67 fixed a small number of bugs that spoiled the gameplay. In general, there are about 10 of them, but we selected only the most significant ones, namely:

1. Crash during loading of different worlds;
2. Crash during crafting as many as 64 blocks.


Minecraft PE 1.16.0.67 for Android