Minecraft PE 1.16.100.52 for Android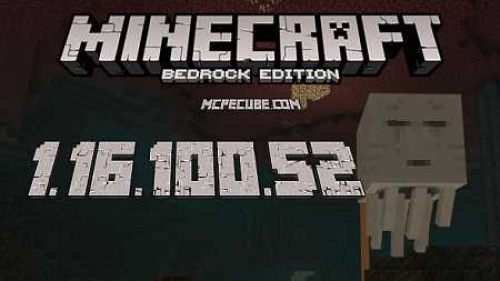 A great day for a new update. Today the developers of Mojang have released a new Minecraft PE 1.16.100.52 update with a working Xbox Live and is already available for all users of Android devices. This is a very important update because, in this version of the Minecraft game, the developers have added more equality between the PC version of the Minecraft Java game and the mobile version of Minecraft PE. In addition, the game has new changes in the gameplay. Let's take a closer look at the new version.



What's new in Nether Minecraft Bedrock 1.16.100.52 update?



In addition to the aspects that relate to the Nether update, various other improvements and elements have been added that positively affect the gameplay of Minecraft PE 1.16.100.52.

The first thing we will draw your attention to are creatures called Hoglins. You probably already know who these creatures are, for those who still do not know, these are new mobs that will become a new source of food. These are very important creatures for every player during survival. We draw your attention to the fact that earlier in the Nether world, the player could not find a food source, and therefore had to take food from Overworld. This is not very convenient especially when you need more storage space for other useful materials.



You can find Hoglins in a place like the Crimson Forest, and they also live in other biomes that are nearby. Pork drops out after their death. We draw your attention to the fact that you should not underestimate these creatures as they are still very aggressive and hostile towards players.

Earlier we mentioned the equality of the Java version of Minecraft and Minecraft Bedrock. The Mojang development studio has long been trying to balance the two vanilla versions by making them identical.

Previously, Mojang Studios said that they plan to first equalize the Java and Bedrock versions, and then each of them will receive updates that meet their requirements.

And even the current version of Minecraft Pocket Edition 1.16.100.52 Nether update also did not go without these changes.



Mojang made the following gameplay changes in the new Minecraft Bedrock 1.16.100.52 update:

1. The sound of sea turtles when laying eggs;
2. Dolphins emerge from the water with the same frequency as in the PC version, namely 120 seconds;
3. Such a block as Basalt cannot be destroyed by such a creature as Ghast, we also draw your attention to the fact that now this block breaks a little longer;
4. From now on, Dynamite is no longer activated when installing Redstone Torch on it;
5. Orbs of experience float on the surface of the water;
6. Now Discounts from achievements during trading are similar to the Java version of Minecraft;
7. The pistons cannot be extended beyond the building height or into the void.



New improvements:



From the entire list of improvements, we have selected the most significant ones, namely:

1. Fixed bug with the wrong direction of bubbles in water columns;
2. Fixed a bug with falling blocks that are duplicated near the portal;
3. Fixed a bug with music that does not interrupt when immersed in water.
Minecraft PE 1.16.100.52 for Android