Minecraft PE 1.16.100.53 for Android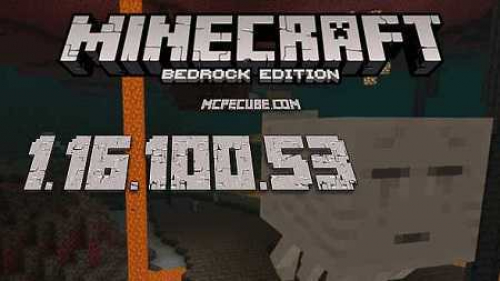 And here is the new update that the developers of the studio Mojang released tonight, meet the new version of Minecraft PE 1.16.100.53 for all users of Android devices, as well as with a working Xbox Live. In the new update, you will see newly generated structures, an updated respawn system, and other gameplay improvements.

What's new in the new Nether update for Minecraft Bedrock 1.16.100.53?

In the new Minecraft Pocket Edition update 1.16.100.53, Nether Update, the developers of the Mojang studio paid more attention to such an aspect of the game as structures and newly updated mechanics. This update also allowed the developers to fix and improve some other aspects of the Minecraft world in Minecraft PE 1.16.100.53.



In the new Minecraft Bedrock update 1.16.100.53, players can find a new unique structure called the Ruined Portal. This structure is generated both in the Nether world and in the Overworld.



The Ruined Portal consists of many blocks, but the most important and rarest is Crying Obsidian. This is a block that was finally added to the Minecraft world and is even used by players for crafting. Also next to the portals in Minecraft PE 1.16.100.53 you can find chests with various rare and useful loot.
Please note that if the player cannot find this structure, then you can use this command: /locate ruinedportal.

Another very important feature of this update is a new block which is a Respawn Anchor. This is very interesting and probably one of the most useful blocks in the world of Minecraft. Now the player can set spawn point even in the Nether world of Minecraft PE 1.16.100.53. Please note that beds in the Nether world explode if you try to use them.



A player may only need two types of blocks to craft a new Respawn Anchor. Namely, a set of six blocks of Crying Obsidian and three Glowstone blocks. But we also draw your attention to the fact that there is one more feature that you should know for sure, namely the charge that blocks such as Glowstone give. This charge energizes the Respawn Anchor. Players will need to spend some Glowstone as the Anchor needs to be charged. The point is that otherwise, you will not be able to place a spawn point.

It is important to know that when using Respawn Anchor in Minecraft PE 1.16.100.53, a big explosion will occur in the Overworld.



Other improvements



New mechanics, new functionality, and improvement systems were added to the game, and they did not forget about bug fixes. These are minor fixes, but important enough for gameplay. We will show you some of them:

1. From now on, Experience Spheres no longer depend on the brightness level and are always the same;
2. From now on, the fence will be correctly aligned with the black stone wall;
3. Dropped items are no longer too low.


Minecraft PE 1.16.100.53 for Android