Minecraft PE 1.16.200.55 for Android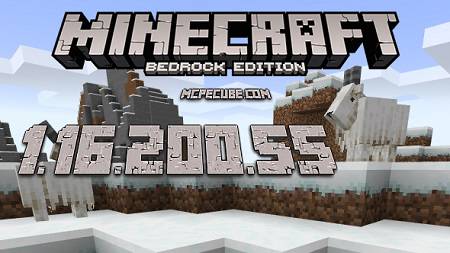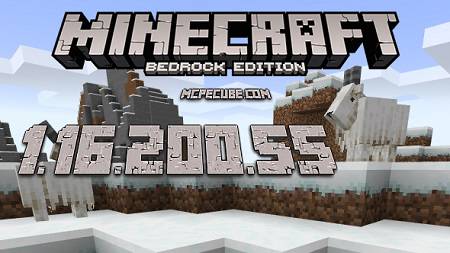 And again a new week and again we get a new update, namely a new beta version of Minecraft PE 1.16.200.55. The new version of the game is already available to all users of Android devices, and we also draw your attention to the fact that this version of the game also supports Xbox Live. The Minecraft PE 1.16.200.55 update is not that big, but it contains the main game aspects that were provided to us by the developers of the Mojang studio. This update is the fourth build of the major update to Bedrock Edition 1.16.200.

This version was presented by the developers of the Mojang studio on November 11, 2020. Here you will see new fixes related to gameplay, settings, mobs, blocks, and more. The main thing to pay attention to is a warning for outdated graphics drivers and some significant bugs fixed. The stability and behavior of mobs such as Pillagers and Illagers have also been improved. Let's take a closer look at the new update.



What's new in MCPE 1.16.200.55?



The new beta version of Minecraft Pocket Edition 1.16.200.55 with several changes. The Mojang development team released a new version of Minecraft Bedrock Edition 1.16.200.55 using the Nether Update header, but this time the main changes were not at all in the Nether world.

Mojang Studios has added some key elements of the upcoming MCPE 1.17 Caves and Cliffs update to the game, which you'll read about below.

We would also like to note the addition of new features of sound settings.

From now on, each player can fine-tune one of the ten available options for different game sounds. This means that players have full control over different categories of sound. If earlier, we could decrease or increase the general sound and the volume of music sounds, now we can adjust both the sound of mobs and blocks and weather. In general, the settings in Minecraft PE 1.16.200.55 have become much more. This will allow players to customize their game even better.

A new animal that has already interested a huge number of players, namely Goats. These are not simple goats, they are Mountain Goats, which have unique characteristics that help them survive even in the most difficult conditions. This animal spawns exclusively in mountainous areas. This will attract more players to the mountains and make the area more interesting.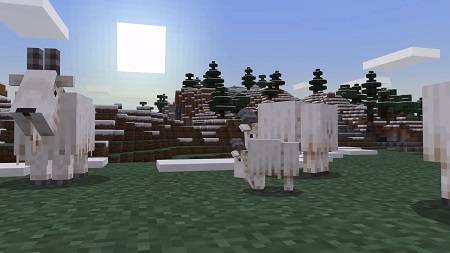 At the same time, do not underestimate them, as these animals can easily throw you off the mountain if you enter their territory. We draw your attention to the fact that the mountains are their territory, so be careful. One of their additional features is the ability to jump high, as well as to move dexterously over rocks and mountain tops. This mob can be bred with wheat while getting from three to eight kids.

If the mountain goat collides with some solid object, then a new special item called Goat's Horn will drop from it. This item does not have much functionality as of today but will be added soon. Its only feature is the sounds it can make. The goat's horn makes a sound that is played when the pillagers attack the village. We recommend that you practice how to dodge the goat gore correctly, since using your mind you can get this item.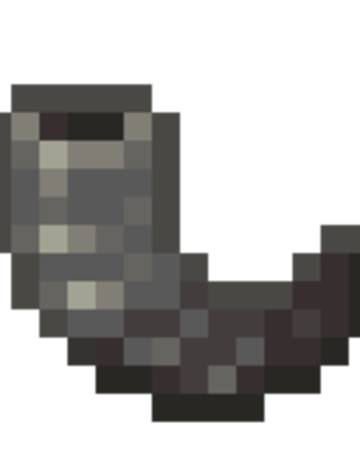 Another feature of this update is a new type of snow block called Powder Snow. On the way to the top of the mountains, you may encounter a new obstacle, namely Powder Snow. The danger of this type of block is that during the battle you can fall into this snow trap and get stuck.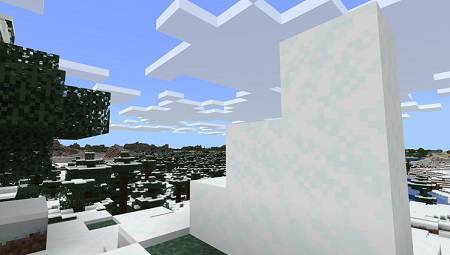 The player slows down in this situation. The only thing that can help is the availability of leather boots that can solve this problem. We also draw your attention to the fact that blocks of powder snow can be used for safe descent from a height like water.

When falling on such a block, the damage from the fall will be completely absorbed.

Attention: Mountain goats in Minecraft PE 1.16.200.55 are so smart that they understand where this type of snow is and avoid it.

Now the most important thing is bug fixes.

In total, the developers of the Mojang studio have fixed nine different bugs. Below you can see the most significant ones:

1. A bug has been fixed due to which Pillagers and some other mobs were hiding from the sun and sunlight;
2. A bug related to the disappearance of sound on some phone models has been fixed;
3. A bug due to which the Vertical Knockback was too weak was fixed;
4. Fixed lag with RTX in flight (for Windows 10);
5. If the player's device has outdated drivers, the player will receive a special notification about this in the game (for Windows 10).
! Don't forget to activate Caves and Cliffs in the map settings!
Minecraft PE 1.16.200.55 for Android