Minecraft PE 1.17.11.01 for Android [Release]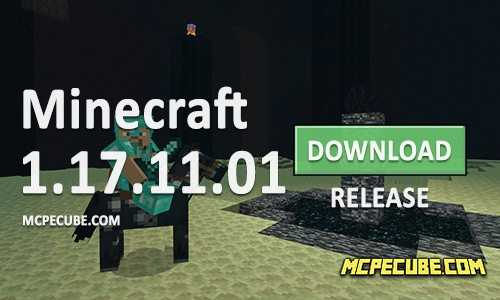 One of the unusual updates for the last month is the Minecraft PE 1.17.11.01 update, as this is one of the few updates that the Mojang developers decided to release. The developers of the Mojang studio, unexpectedly for everyone, have released a new full version of the Minecraft PE 1.17.11.01 update for Android devices and those devices that use Android operating systems for work.

Since this is a very small update, you probably already guessed that it will not be a big one.

In this update, the developers have fixed only six bugs, but at the same time, although there are not so many of them, each of them is important enough for every Minecraft player, for example, one of these changes is fixes of bugs related to the End world.



Bug fixes



In total, only six different bugs have been fixed. Below you can see a more detailed description of the bug fixes:

1. The movement from the End world to the Overworld has been fixed;
2. A bug with long loading of the game after death in the world of the End has been fixed;
3. The pause function on Xbox devices has been fixed. The game will no longer crash on minor glitches;
4. Horses will no longer disappear when dismounted;
5. The / msg command was returned. Again, players can use it in survival mode on different servers;
6. Servers will no longer be updated for a long time.
Minecraft PE 1.17.11.01 for Android [Release]