Minecraft PE 1.17.30.22 for Android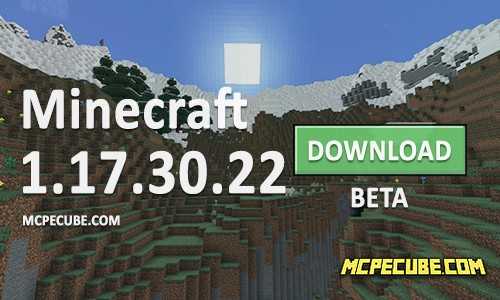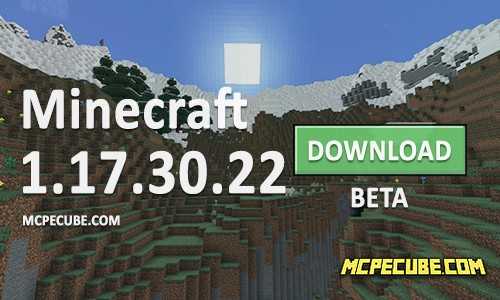 Just a week ago, a new test version of Minecraft PE 1.17.30.22 was released for Android OS and users of these devices. In this update, such game aspects as the parity of the Java and mobile versions of the game were worked out, including some small but significant fixes in the gameplay. Also, some interesting aspects related to technical innovations for Minecraft were added.

Let us consider below the new changes introduced by the new test version of Minecraft PE 1.17.30.22.



What's new in the update Minecraft Bedrock 1.17.30.22?



The first and foremost thing that may now concern all players is the parity between the PC version of the game and the mobile version of the game.

That is why seven fixes were added that are related to the parity of the game. You can see the list of changes in more detail below:

1. To break the Barrier block, the player no longer has to use the block he is holding in his hand;
2. Projectiles, snowballs, arrows, and others do not pass through the Barrier;
3. Fixed interaction with items through the Barrier block;
4. If you throw out and destroy the Shulker Box, the items will simply drop;
5. Items such as bow and trident are now more similar to those presented in the Java version of the Minecraft game;
6. The color of water and grass will no longer be distorted;
7. Now abandoned villages do not spawn as often as they used to.

The following are general game bug fixes.

In total, Mojang fixed thirteen different types of errors, each of which could negatively affect the player's gameplay. Some are worth noting in the list below:

1. The player will no longer teleport if he gets off the mob at heights with a minus Y value;
2. From the Cartographers you can buy Treasure Map only that lead to unknown fortresses;
3. Enchantments in the Book of Enchantments have become more balanced;
4. Crossbow, trident, and shield are now displayed correctly when using skins;
5. The spyglass no longer leaves the player's hands when used;
6. The quick access bar will no longer jerk when setting the game;
7. Fixed the display of the sight when playing with other players;
8. The loading bar from the in-game market has become better;
9. Fixed the work of fast crafting on the Stone Cutter and the Loom.

And the last one is the changes that concern only the technical aspects of the Minecraft game.

Five new changes have been added to the game for developers of various add-ons for Minecraft. You can read more about this information on the official Minecraft source.

The most important change is that now mods can use different commands in the chat, even without cheats enabled!
Minecraft PE 1.17.30.22 for Android