Minecraft PE 1.17.40.23 for Android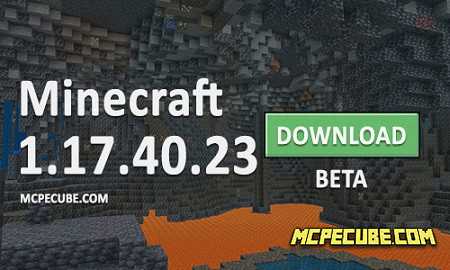 The good news, the developers of Mojang presented a new
beta version
of
Minecraft PE 1.17.40.23
, which the developers release every week for all users of Android devices, as well as those devices that use the Android operating system. This is a small update, but it is worth noting that even it has quite significant fixes and changes. Let's take a look below at what's new in the Minecraft PE update 1.17.40.23.
What's new in Minecraft PE 1.17.40.23?

As mentioned earlier, the new update is small and has only seven fixes.
The first thing we will look at is Experimental Features.
1. The connection of chunks on flat worlds with Caves and Cliffs has been fixed;
2. Flat worlds with Caves and Cliffs now update correctly for players to use the new elevation level.
The next feature is bug fixes.
1. The bug due to which players appeared on the surface with Light Block has been fixed;
2. Tropical fish no longer lose color if caught with a bucket and released back into the water;
3. Trapdoors are displayed again in the recipe book;
4. Lily Pad can again be placed in water deeper than one block;
5. Mobs no longer jump endlessly on incomplete blocks.
Minecraft PE 1.17.40.23 for Android