Minecraft PE 1.18.10.24 for Android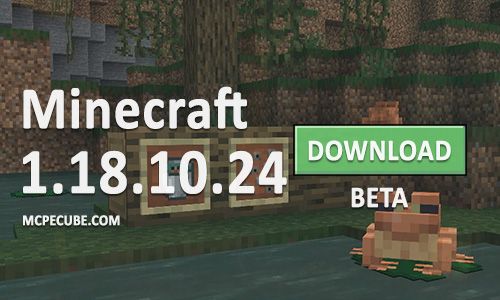 Friends, today is Wednesday, which means the team of game creators has released another update. Minecraft 1.18.10.24 is a test version for Android OS. New mods await us here - frog and tadpole. Also, the developers have sorted out some points in the game that caused errors and added technical changes.

A total of 13 fixes and 9 technical changes were made.

To get all the possibilities, activate the experimental parameters.



New mobs



Frog


This creature lives in swamp biomes.

As is typical for a frog, it can jump high, it constantly croaks, it is able to live on land.

If you want to befriend it, use Seaweed.

The way of breeding is to postpone the game from which tadpoles hatch soon.

There are only three species, the place of birth affects: white, green and brown.

It feeds mainly on slugs, so mucus sometimes falls out.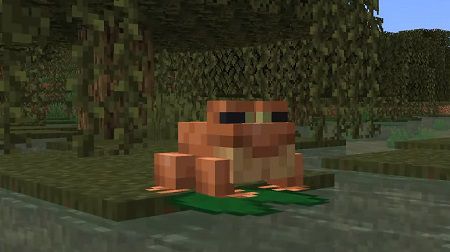 The second mob is a Tadpole.

This is the previous stage of the frog. It lives exclusively in water, therefore, when it melts on land, it dies.

It can inhabit three biomes, and further affects the adult Frog.

The player can collect tadpoles in a bucket of water.





What issues have been resolved in the gameplay?



In total, 13 bugs were fixed.

1. Now when enchanting "Bad Omen" there will be no animated particles.
2. When you pause the game, the screen will go into standby mode and darken.
3. The developers have added smoothness to the movement of the "Squat".
4. If there is no product on the shelves, the villager will tell you this.
5. After the destruction and death of the Ender Dragon, the beast remains in place.
6. They fixed the problem that arose when the player took the Armor.
7. There is no more bug in the Village.
8. Correctly set up the signature of items on the Armor strip.
9. Now the Globe flag will be identical as in Java Edition.
10. The developers have introduced the / kill command to destroy mobs that are affected by the "Absorption" enchantment.
11. /Replaceitem works correctly.



Technical innovations



9 changes were added by Mojang Studios to improve productivity and stability of the game. All changes are intended for mod developers and testers.
Minecraft PE 1.18.10.24 for Android