Minecraft PE 1.18.10.26 for Android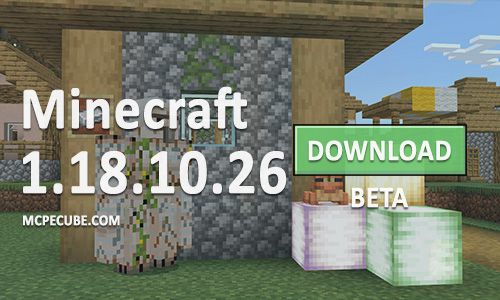 The new year starts with a new test update. The game developers have released Minecraft PE 1.18.10.26. As it turned out, the new version added blocks and of course some bugs were fixed to improve the gameplay. Also in this update there are some changes regarding the behavior of mobs.

Further details about the innovations.



What are the new features for mobs?



1. From now on, frogs and tadpoles make certain sounds.
2. The bug with which the frog swam away in cases of panic has been fixed.
3. New behavior in tadpoles - in case of danger, they can swim away.
4. Now the player can deal damage to all mobs in the game using the '/ damage' command.

A new block in the Minecraft game.

In this beta, the player will have a new Froglight.

This block comes in three colors: pearlescent, green and yellow. The color of the block is determined by the frog, in fact, it produces these blocks if it eats the Lava cube.

Also, the developers are trying to add some changes in order to make Bedrock Edition closer to the Java Edition.

In this version there will be such innovations:

1. Now there will be an indicator that shows the degree of destruction of the Iron Golem, depending on health. To fix the golem you need iron ingots.
2. Lichen shines with the same power as in Java Edition.
3. When the fox attacks or jumps, it moves headfirst.
4. The villager is deprived of the emerald icon above his head.
5. Tradeable items for merchants and other similar characters are now Java Edition.
6. If you have a bad reputation in the village, the iron Golem will be able to attack only after you have dealt damage to the villager.

What errors and bugs have been fixed:

1. The bug of a creature disappearing in chunks when leaving the world has been fixed.
2. Now you can safely create a world with the Wasteland biome, the game will not close.
3. You can now earn experience by interacting with the smelter and smoker.
4. In this update, the player will not be able to place glowing lichen on frog spawn.
5. Fixed a bug due to which the game exited when using the commands setblock or / fill to put cocoa beans.
Minecraft PE 1.18.10.26 for Android