Minecraft PE 1.18.30.32 for Android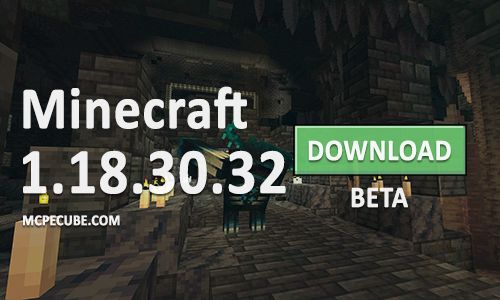 Friends, a test version of Minecraft 1.18.30.32 for Android users is already available for download. Finally, the developers have added the most powerful mob Warden and the structure of the Ancient City. This release fixed 6 bugs that affected the gameplay.

Be sure to enable experimental options to add new content.



Warden



This is a huge hostile creature.

Characteristics

• Generates in the underground biomes Dark Depths.
• Blind, but feels the vibration from any creature and character.
• With the help of the sense of smell, it captures even the weakest vibrations from player.
• Able to move quietly.
• It is better to bypass this mob on long roads and not get caught by him.
• You may not even notice him, but everything will change when he hears you.
• Guided by the signal of the rock screamers to attack.
• By the sounds of steps, you can navigate how angry the mob is. The speed of the heartbeat is also a signal of anger.
• As soon as the level of anger reaches the maximum value, it starts to growl in front of the player and attacks.
• If you leave Warden alone for a minute and do not anger him, he will leave in his own direction.
• If you don't want to disturb the Warden, use projectiles every 5 seconds to collect resources.
• Very strong, will easily destroy the shield.
• Haven't any drop.
• Don't taunt the mob, move the impulse to SNAP.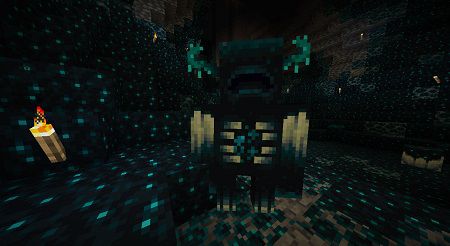 Ancient city



This is an abandoned treasure structure.

Characteristics:

• The structure is located in the Dark Depths.
• Resources with Chests are guarded by Skulk blocks: Skulk Shriker and Acoustic Sensor.
• Reinforced Abyssal Slate is generated except when playing in survival mode.
• To find the location, enter the command in the chat line /locate ancientcity.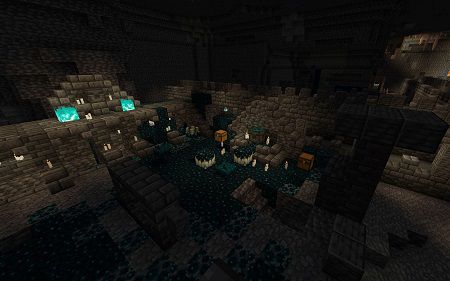 Bugs:



• May appear beyond the Dark Depths.
• Reservoirs are capable of destroying Ancient City chunks.



Corrected mistakes



6 main problems in the game were found and solved.

The main ones are:

1. The game no longer crashes when a Helmeted character takes damage from a block falling on them.
2. All mobs remain unchanged when loading worlds from Old Console versions.
3. Mob knockback resistance has been reduced during Iron Golem attacks.
4. Fixed spawning bugs for End cities.
5. Changed the popup buttons and icons for Skin Packs downloaded from stores in the game.
6. Fixed the work of the wheel of emotions if you use the sensor.

Always make backups when installing beta versions of the game.
Minecraft PE 1.18.30.32 for Android