Minecraft PE 1.19.0.24 for Android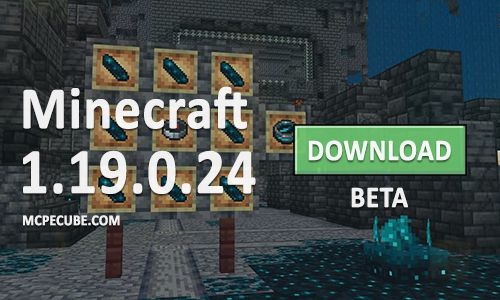 This week, a new beta version of Minecraft PE 1.19.0.24 has appeared and is already available for download. The developers have added the Restoration Compass, made 7 gameplay changes and improved the game by fixing 20 bugs. They also gave information about the Spectator mode, which interested many users of the game.



Spectator Mode



In the last release of Minecraft, the developers added the spectator function. The player could fly through the blocks, observe the world, but not interact with it.

This feature is still being improved and new features are added.

They say that in the next updates it will already be possible to change modes using the switch. But today, to activate this feature, you need to register the /gamemode 6 command in the chat.



Recovery Compass



This is a new item, one of the compass variants. Its function is to show the path where the player's death was.

Characteristics:

• If the player died in another world, the arrow starts spinning in random directions.
• Crafting Recipe:

Combine 1 compass and 8 echo shards.

Echo Shards is a new item that will be found in Ancient City Chests in future versions of the game.

Changes

There are 7 changes in this release. Among them:

1. Goat horn will immediately make a sound when used.
2. Froglight will have a new sound and Frogspawn also.
3. Allay now regenerates 2 health at once every second.
4. Previously, when crafting Mud Bricks, you could get 1 block, but now there will be 4.
5. There was a recipe for creating a boat from mangrove boards with a chest.
6. Improved chunk mixing.
7. The developers have removed the Copper Horn item. They considered it insufficiently useful and interesting, perhaps it will be finalized and it will appear soon.

Corrected mistakes

The developers fixed 20 bugs that improved the game.

• Sculk-shriker:

⁃ Now the particles are correctly generated when the block is activated;
⁃ The unit does not turn on due to red dust;
⁃ You will not be able to escape if the block worked and spawned a Warden;
⁃ If Peace Mode is enabled, then Warner is not summoned;
⁃ With "can_summonblockstate" you can change the generation of Warden;
⁃ The block now spreads the highest level of threat to nearby players, rather than only to the nearest player.

• Warden:

⁃ Now when a mob takes damage it has a unique animation;
⁃ Creature model renders without errors;
⁃ When enraged, attacks players, not mobs;
⁃ Sniffing now works over long distances, and chasing other creatures has been improved;
⁃ If the game is in Creative Mode, the Darkness Effect will not activate.

• There was a glitch when picking up Allay's item by another player, but it has been fixed.
• Piston can no longer push Reinforced Abyssal Shale.
• If the player is using the new boat control interface, then it is possible to move items in the hotbar.
• Now the entire surface of the world creation button is working.
• Fire animation in creative mode works correctly.
• Blocks that can fall are capable of destroying plants.
• Plates can be installed indefinitely.
• Inventory correctly displays the functions of enchanted items.
• Block commands that were copied now work without errors.



Technical changes



There were 5 innovations in this section. All of them relate to the development of add-ons and version testing.

Note. Don't forget to make copies of worlds when uploading test versions.
Minecraft PE 1.19.0.24 for Android