Minecraft PE 1.19.40.24 for Android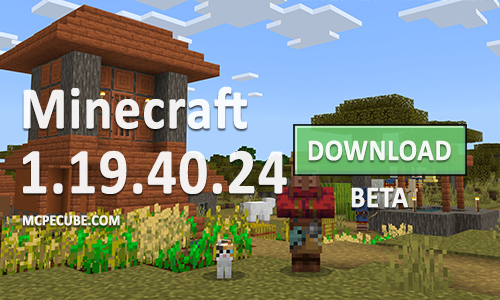 This time, the developers released a small test update for Minecraft 1.19.40.24, in which they made several changes related to the ability to regulate the market cache. In addition, fixed 4 bugs, thereby improving the gameplay.

Only yesterday we announced the release of a small full version, where critical bugs were fixed. And today, players are already waiting for a modest update of the test version of Minecraft 1.19.40.24, in which the creators have finally started fixing market errors. Developers are gradually changing the game and removing bugs. This is important for a comfortable game.

New changes

There will be 2 innovations in total. Briefly about each.

1. Added the ability to reset the market cache from the settings:

• Now users can easily download any game worlds.

2. We briefly limited the ability to make the text background transparent from the game settings.

• This feature will return in the future.

Corrected mistakes

• Maps does not display black pixels instead of terrain.
• Restored damage to the character from the Bushes of sweet berries.
• Fixed scrolling of the list of goods of the Villagers, now the management is better.
• Fixed copying of coordinates, the button works correctly.

Do not forget to make copies of the worlds before downloading the test version to avoid losses.
Minecraft PE 1.19.40.24 for Android