Minecraft PE 1.19.50.22 for Android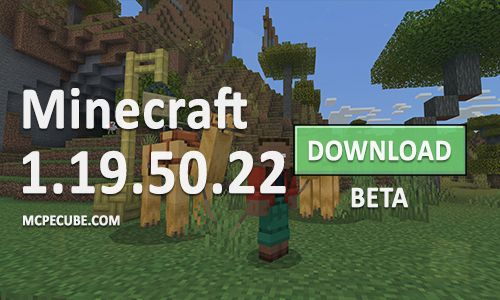 The beta version of Minecraft 1.19.50.22 pays attention to the experimental content that developers have already begun to contribute since the last test version. Updates affected Camels. Fixed critical bugs so that you can enjoy the game without bugs, and also made changes for version parity in the gameplay.

Experimental features

Almost everything that Mojang added last time has undergone improvements.

Here are the changes that have affected the Camel:

• The dash length of camels will now be affected by the effect of quickness and increased jump.
• The jerk stops in the water.
• Made the regeneration of the ability of the animal slower.
• Improved the textures of the mob spawn egg.
• Adjusted the work of animation in Minecraft on the phone.

Other changes:

• Added the function of storing books on a carved shelf.
• Now the block can be created from any wood.

Changes

6 new items that don't download experimental content. More:

• Added display of Characters and rules of use.
• Once stuck, the user will travel to the nearest open location.
• Changed the movement of status icons.
• The Observer does not affect Warden's spawning.

Version equality

To make Minecraft Bedrock and Java look alike, the developers made several changes. Namely:

• Added sounds and particles for destroying Water Lilies with a boat.
• Changed the placement of fan coral.
• Added new sounds when destroying support blocks.
• Implemented particles to water lilies.

Corrected bugs

17 bugs fixed this week. Main:

• Blocks do not show through after being stuck.
• Performance does not depend on reloading the game.
• Spectator mode - observers could interfere with interaction with objects
• Shadows of creatures are rendered without lag.
• Removed the bug of accidentally changing the name of the anvil.
• There is no longer a quick shield break from some mobs.
• Improved the work of the armor rack in Minecraft. Items don't drop.
• Fixed Ender Dragon loading on reload.
• Fixed crashes from some store maps.
• There is no longer instant archery when swimming.
• Found the cause and eliminated because of which the joystick stopped.
• Fixed buttons and interaction with the interface.
• Updated the textures of some control icons.
• The flight is carried out even when pressing Takeoff and Descent at the same time.
• The base of the red sandstone became smooth.
• Fixed erroneous viewer activation of pressure plates and sensors.
• Observers do not activate any blocks and do not interfere with the characters.

Technical update

There are 5 innovations in this section. Improved documentation and added new templates for mods.
Minecraft PE 1.19.50.22 for Android