Minecraft PE 1.19.60.24 for Android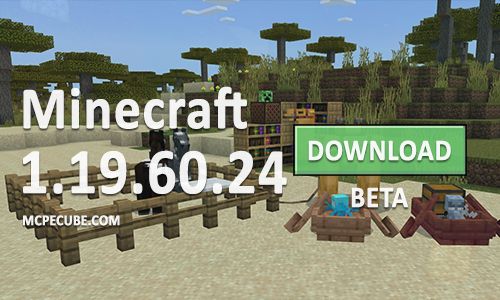 Install the Minecraft 1.19.60.24 test update, where some Experimental changes have been fixed, for example, the Carved Bookshelf; changed 2 points in the game; focused on fixing common gameplay bugs; and updated the technical section.

Experimental content

Added one change for new features. More:

• Books in the new Carved Bookshelf are correctly added from the Funnel or Ejector.

Changes

There are 2 changes in this update. Properties:

• The weapon in the Vex's left hand is rendered correctly.
• Added a window to go to the browser when clicking the button for feedback on the game screen.

Corrected bugs

The developers were able to fix 10 problems that were in the game. More details:

1. Now slime mobs and their counterpart in the Nether - Magma Cubes cannot spawn in a space at least 2 blocks high.
2. Fixed the start of Raids from a player with the Bad Omen effect when he is hovering or riding a mob.
3. Armor properly loses durability from creature hits.
4. Fixed the work of the Funnel.
5. Riding mobs (horses) cannot be thrown over the Fence if there is a Carpet there.
6. Moved the center of the Vexs' Hitbox.
7. There was a separate animation of Vex without things in their hands.
8. Fixed the landing of Allay and the Vex on vehicles.
9. Transferring things from the creative inventory to the custom one is seamless.
10. Touch controls work correctly when moving diagonally.

Technical update

There are 3 new items in this section that generally improve the gameplay and are aimed at improving testing and creating modifications.
Minecraft PE 1.19.60.24 for Android