Minecraft PE 0.1.1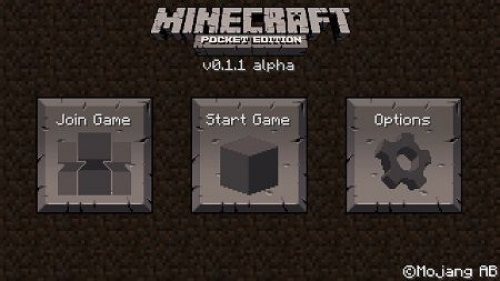 Download the oldest version of Minecraft PE 0.1.1 and try out the main features of the game, explore the mysterious world, build buildings from available blocks in mcpe and play with friends!

Features of Minecraft PE 0.1.1

In Minecraft 0.1.1 you will get access to an open world, which consists of blocks, and the player will be able to do anything: create a shelter, his own settlement, compete with friends and explore different locations in biomes.

Blocks

The world in this version of the game consists of many blocks that can be destroyed and combined with each other.

The player's inventory was limited to a small number of basic blocks. These include stone, wood, wool of various colors. From all this diversity, you can build whatever your heart desires. And as a decor, you can use two types of mushroom and a flower. Steve can interact with them.



Multiplayer

In Minecraft PE 0.1.1, players will be able to invite their game mates and explore the universe together.

To set up the multiplayer mode, you will need to create an access point on the device so that other players can connect to it by pressing the Join Game button.

This function works through a shared Wi-Fi network or a single Internet access point.

World generation

Landscapes in Minecraft PE 0.1.1 are generated simply with limited limits. It is impossible to go beyond the territory barrier. Due to the shortcomings of the publication, users may encounter strange phenomena.



Biomes

Exploring such a world is just as interesting as in the original game. Here you will find snowy locations, beautiful views with waterfalls and much more. In addition, traveling through different biomes, you can replenish your inventory with various resources and items.