Minecraft PE 0.1.2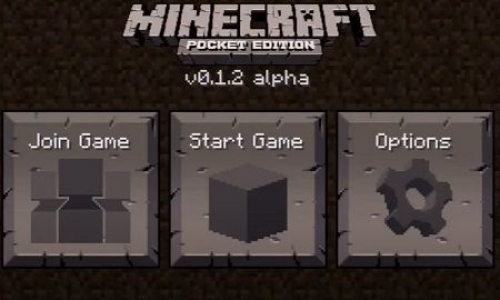 Install Minecraft PE 0.1.2 on your device to enjoy the blocky world, play multiplayer, build a house with new blocks and meet the inhabitants of this universe.

Features of Minecraft PE 0.1.2

In this build, the creators of the game continue to introduce never-before-seen content, expanding the possibilities. New features continue to appear, albeit at a slow pace. And now users with iOS devices can play this version of the game.

Menu

In the earliest editions of the game for smartphones, the menu looked simplified with three buttons. Now it seems very small, but these basic keys provide a full-fledged gaming experience.

The following buttons are currently available:

• Multiplayer;
• Single Player Game;
• Settings.

Blocks

Now there are even more blocks. Steve can build himself a shelter from various materials and equip himself with a full-fledged housing. You can build wooden, stone, sand and any other building.

The player can fully interact with any object, install and destroy.

The funny thing is that you will be able to find iron ore and cacti even though they have not been formally implemented.

Map creation

The world, as in previous versions, still has limited dimensions and random generation. The view of the cubic expanse is far from the modern original versions of the game. There are flaws, errors and some limitations.

But you will notice that with each subsequent update of the map, vanilla modern-style landscapes will appear.

Minecraft 0.1.2 added the ability to choose a left-handed layout (it's mirrored). In MCPE 0.1.2, you can turn on the 3rd person view and look at your character from the side. Another new feature is turning off in-game sounds.