Minecraft PE 0.1.3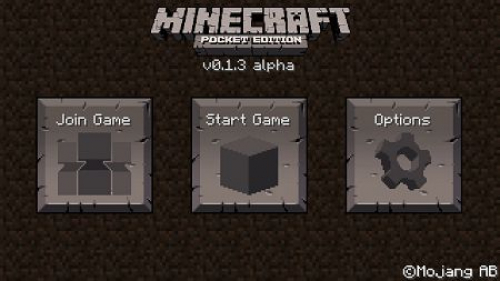 Enjoy cubic landscapes and conquer the famous sandbox Minecraft PE 0.1.3 on mobile. Get to know never-before-seen blocks and mobs with your game friends in multiplayer mode.

Features of Minecraft PE 0.1.3

This build is focused on fixing accumulated bugs. In addition, the authors of the game have significantly improved the performance and stability of the client.

Multiplayer mode

It was in this version that the developers paid attention to the multiplayer and finalized it. In the multiplayer game, the loading of chunks has noticeably improved, and stability has increased.

Fixed display of some blocks and objects.

The player was given the ability to control the sensitivity parameter
screen.

Blocks

Users of the game MCPE 0.1.3 got access to many building blocks and can implement any building. Various colors of wool, stone, bricks, sandstone, and other items are available to them.

The main innovation in this version is the appearance of cacti in the deserts.

Steve still can't get some blocks. But they can be found in the inventory: ores, gravel, wood, clay, and dynamite.

World generation

Improvement continues. The interface scale of this edition has been adapted for tablet devices. But at the same time, the maps are also very limited in area.

Therefore, the question of an endless journey through the block expanses still remains open.

The graphics of the game has become noticeably better and takes on a modern look.