Minecraft PE 0.2.2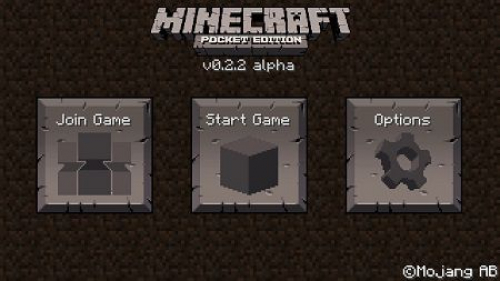 Download Minecraft 0.2.2 and get acquainted with the amazing cubic universe, master new mechanics of interaction with the world, living creatures, blocks and much more.

Features of Minecraft 0.2.2

The assembly is notable for the fact that the most important and necessary elements and functions are added to the gameplay. The main attention in Minecraft 0.2.2 was paid to mobs, various tools for survival, as well as different game modes and a new movement option - flight, which makes it easier to build and explore worlds.



Game modes

If earlier it was impossible to feel all the delights of the Minecraft gameplay, now the player can choose the game mode that is comfortable for him and enjoy the process. In Survival mode, you can not only create incredible buildings, but also survive by fighting monsters, stock up on resources, and monitor your health indicators.

In the standard mode - Creativity - players will have unlimited access to absolutely all blocks and objects and not be afraid that someone can harm them.

Mobs

Among the inhabitants of the world in Minecraft 0.2.2 you can find a sheep, a pig, and zombies. In Creative mode, you can create them with a summoning egg. And in Survival mode, they will be generated all over the world. At night, undead zombies need to be wary, as they can pounce on the player as soon as they see him nearby.



Blocks

With each update, the number of blocks increases. Steve can now add a bookshelf to his home. This will brighten up the interior. At this stage, it does not have the functionality as in new versions, but only serves as a decoration.

Also, in Minecraft 0.2.2 it became possible to use many other items made of stone and iron.

Corrected mistakes

As for the bugs, the update fixed frequent freezes of maps. You will no longer be disturbed by sudden bugs and crashes from the site in Minecraft PE 0.2.2.