Minecraft PE 1.19.80.21 for Android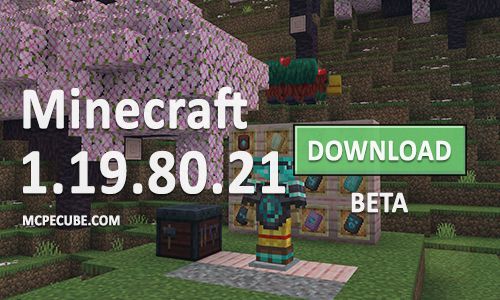 Keep on testing out the latest experimental features introduced in the Minecraft 1.19.80.21 beta version. This update brings a range of exciting additions, including the ability to decorate armor with unique patterns and a revamped Smithing table. Get all the information about these new features and more in the following article.

Armor Decoration

To change the outer style of the armor, you need to use the Smithing Table. Main:

• The player does not receive any benefits.
• You can decorate all parts of the armor.
• Although the pattern icons look identical, they differ in color. If you want to see the picture, hover over.
• Patterns require templates that are scattered throughout the world and dimensions. Search near the main structures of Minecraft.
• The second way to get this is by fighting the Elder Guardian.
• There are very rare options that are hard to find.
• Depending on the material used and the Smithing template, patterns have distinctive features.
• As a material, you can use all metals, precious stones, lapis lazuli, and redstone.

Blacksmith table

New updates have been incorporated into the function. More:

• New buttons and menus.
• There is a slot for new templates.
• You can combine different patterns and materials to create unique options.
• The Smithing Template is a consumable item and cannot be reused.
• There are templates that are needed to create a pattern, and there are separate ones to improve netherite.
• If you use certain items and resources, the player can copy the Template immediately at the crafting table.

How to use the Smithing Table to decorate armor?

• The Template is placed in the top slot.
• In the middle - Armor.
• In the lower any material.

Netherite Equipment

There are changes here and it is due to the fact that now you need a Blacksmith Table with a Netherite improvement to create. And it can only be found in Nether biomes near the castle.

Changes

There are 7 innovations in this paragraph. Important:

• There is an animation of the movement of the ears of the Piglin Head.
• Suspicious gravel has appeared in Archeology.
• Potions icons have non-glowing and new colors.
• You can adjust the visibility of the glow of enchanted items.
• Fences have new nicknames.
• The search box in Creative Mode appears as soon as you use the keyboard.

Corrected mistakes

12 bugs were worked out in this version. Main:

• Wood can be used to get Hewn Cherry Bark.
• Cherry Leaves and Tablets now generate with updated textures.
• Added Orange Frogs to live in the new Cherry Blossom biome.
• Spheres of experience behave without errors.
• Adjusted the operation of cameras from a third-person game when falling into lava.
• Multiplayer servers work without glitches again.
• Adjusted camera height when crouching.
• Improved the design of the Xbox login menu.
• Villagers properly get up from the Bed.

Technical update

This section contains 20 innovations that relate to developers and testing.
Minecraft PE 1.19.80.21 for Android