Minecraft PE 1.19.80.22 for Android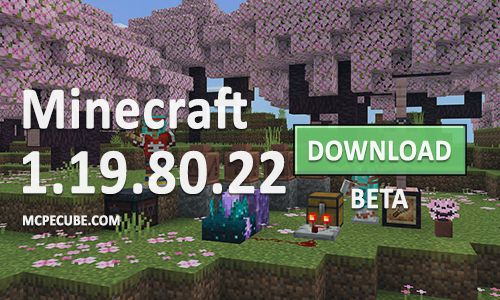 Published a test version of Minecraft 1.19.80.22, in which added a unique block for catching certain signals, new ruins, 7 innovations, and made corrections for a comfortable game.

Calibrated acoustic sensor

This is a new block that catches signals. Characteristics:

• Can select only certain vibrations.
• To create, you need a Sculk Sensor and three Amethyst Shards.
• Connects with Redstone.
• This sensory receptor reacts in accordance with the potency of the Red Dust's signal.

Experimental mode

Updated experimental features. Main:

Vibration resonance

• The Amethyst Blocks located adjacent to the Sculk Sensor are capable of generating vibrations.
• Upon detection of these vibrations by the sensor, the block emits a specific frequency.
• This functionality enables players to transmit vibrations across extended distances.

Sign

• There are no restrictions on changing text.
• You can write different text and different text on both sides.
• When placed, the Plate prompts you to enter text on the front side.
• If the player uses Honeycomb, then changes are not possible.

Archeology

• All over the world, new ruins can be found as a new structure.
• The Underwater Ruins contain Suspicious Sand and Gravel.
• Increased to 20 Shard variants.
• The brush works correctly at the moment of cleaning.

Cherry blossom

• Added new Petal particle options.
• Added new sound effects.

Armor Patterns

• Increased the number of pattern options.
• Some species have received a new visual look.

Changes

There are 7 innovations in the general game. Pay attention to:

• The colors of the Potions have returned to their original colors due to bugs.
• The flight is turned off when entering low passages.
• You can add the market product you like to your wish list in the Market section.
• Mobs are burning at the Campfire again.
• Added an interface when dividing stacks.
• Updated buttons for entering the game on the game console.

Corrected mistakes

12 items were found and corrected. Let's single out:

• At the moment of sprinting and swimming, the player's camera does not disappear inside the blocks.
• Now of crouching, the collision works without errors.
• Returned the Moss block to the Chest in rare structures.
• The textures of the Funnels now have the correct look.
• Sign text is shown correctly when ray tracing is enabled.
• Customized resource pack selection menu.
• Resolved interface display.

Technical update

Only 8 technical innovations. All innovations are aimed at improving the performance of the game and are important for add-on developers.

We advise you to make backup copies of peers when installing the test version, so as not to lose progress!
Minecraft PE 1.19.80.22 for Android