Minecraft PE 0.7.4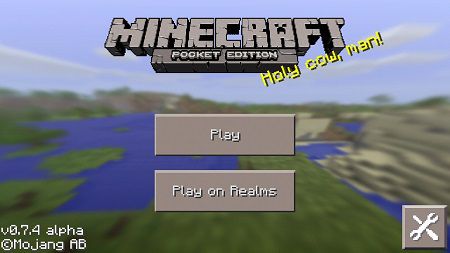 Download one of the first versions of Minecraft PE 0.7.4 and see what features and functions the players had then. Even then, it was possible to play with friends on the server, milk a cow, build a dwelling and even a farm out of various blocks.

Features of Minecraft PE 0.7.4

• Add a new item - a bucket.
• New interface language - Russian.
• Sound animation for objects.
• Add the new block - fire.
• Realms server.
• Creepers explode from Flint and Steel.
• Improved Sun.

Mobs

There are not many creatures in the game. There are both friendly and hostile. Peaceful animals can be obtained in the creative inventory through spawn eggs. You can populate your world with an unlimited number of cows, pigs, chickens, or sheep.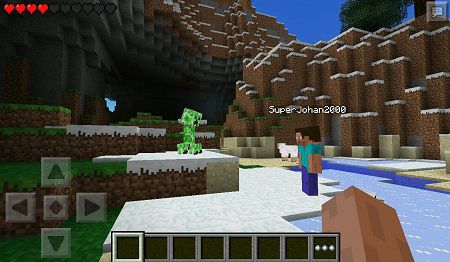 Pocket Realms

Now users can subscribe to the Realms service to create their own world on the server and invite their friends from anywhere in the world.
Invited players do not need to pay for services, but they do not have access to settings.

All Minecraft users had the opportunity to sign up for a monthly trial subscription to use this feature.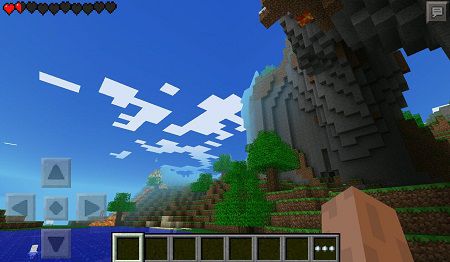 Blocks

In addition to dangerous creatures, the developers began to add dangerous blocks - fire. The fire block could harm not only the player, but also all objects and creatures that can burn. Therefore, players must adhere to safety precautions and handle this block carefully so as not to receive damage.

The list of building blocks has also expanded. Now there are columns, quartz, and varieties of this blocks. You can get these materials by playing in Creative Mode.

Item

A bucket appeared in the player's inventory. In survival mode, it can be made from iron blocks. It had the function of collecting and transferring liquids.
You can also collect milk from a cow by using a bucket and interacting with the animal.