Minecraft PE 0.7.6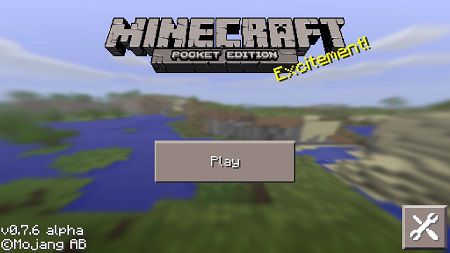 See what the cubic world was like in Minecraft PE 0.7.6. This is a great option to get nostalgic and compare the functionality of modern and alpha versions. Already in the first versions, you can invite other players from anywhere in the world and enjoy the game together.

Features of Minecraft PE 0.7.6

This edition aims to fix bugs from previous first versions of the game. Features such as summoning mobs using spawn eggs, creating servers through Realms mode, as well as new blocks and items continued to improve.

Mob spawn eggs

The new item allows any player to summon as many creatures as they want. This is a really convenient opportunity to populate your world or set up a farm near your home.

It is worth noting that this function is only possible for playing in Creative mode.

Multiplayer game

Now you can add servers to the game. A special tab where players must enter the IP and port of the server.
To use the Realms service, you need to purchase a paid subscription.

Block of fire

Fire is capable of burning wood structures, forests, and objects. In addition, it causes great damage to game users and most living beings. Therefore, handle it carefully and, in which case, quickly extinguish it with a bucket of water.

Interface

• Many bugs have been fixed in this final version.
• Added an interface for Russian-speaking users.
• A nickname is written above the players, this can be seen while playing on the servers.