Minecraft PE 1.20.10.01 for Android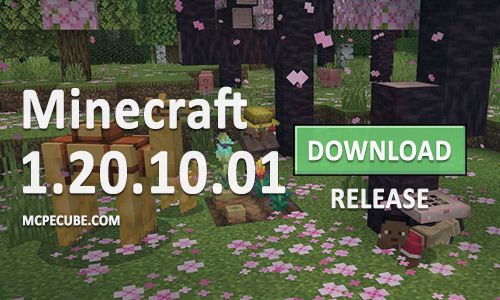 Download the latest Minecraft 1.20.10.01 update on your Android device and enjoy the new changes. This time we improved new features related to crawling and opening recipes, and also made a bunch of innovations.

Experimental features

Opportunities continue to improve. Detail:

• Crawl
• In the settings you can choose the mode.
• Now the movement is accompanied by animation.
• If the player passes through a height of one block, then the pose immediately changes.
• The speed of movement during crawling is the same as during squatting.
• In water, you can only swim, while the camera has a new position.
• Projectiles and particles have a new position.
• Fixed stuck issues.
• The miniature received a Crawling animation.
• Hitbox works correctly when crawling.
• Recipe Unlock
• Opened upon receipt of materials.
• This displays notifications.

Changes

More than 30 innovations were added, most of them were in test updates. We highlight the most interesting ones:

• Sounds and music in the game depend on the position of the Camera.
• Most elements of the game received vibrations for the Sculk Sensor.
• The server menu has received new buttons and a redesigned design.

Similarity with Java

Synchronization between the two versions of the game continues. Important:

• Crouching reduces the player to a height of one and a half blocks, and in order to return to the starting position, you need to find an open space.
• You can't crouch if you're riding a mob.
• At the moment of the squat, the resulting shocks were removed.
• Fixed issues with using Squat.
• When things are thrown out of the chest, they are in the center of the block.
• The player does not require a Boat Shovel.
• Barrels are crafted from Planks instead of Sticks.
• There is no longer a recipe for getting filaments from the Web.
• After curing a zombie villager, you can get a drop.

Fixes

Almost all were transferred from test versions. More:

• Stable game on Nintendo Switch.
• Resumed the interaction of villagers with new plants.
• Camel does not make a double sound when dashing.
• Magma cubes are affected by effects.
• Boats no longer disappear when left on ice.
• At night, creatures are generated normally.
• Camels react to damage while standing still.
• The new Sniffer mob no longer hangs in the air while searching for seeds.
• There is no freezing from loose snow.

Technical updates

55 new updates have been added to ensure the stability of the gameplay and optimize the work of modders.
Minecraft PE 1.20.10.01 for Android