Minecraft 1.15.0.53 for Android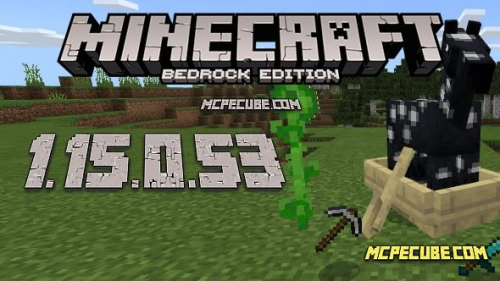 And now the new update Minecraft Bedrock 1.15.0.53, this is the second test update of the 1.15 series. In the new update, new bugs were fixed. In general, this update is not so big, about 20 different bugs and crashes were fixed in it.

We draw your attention to the fact that the apk file takes up more memory. Why? Because the developers of the Mojang studio decided to introduce a special system of Split APKs. Now, if a player downloads Minecraft from Google Play, he will see that the game has been divided into several parts.





What is Split APK?



Split APK is a special system that allows you to divide applications into parts. This system also allows you to download from Google Play only the most necessary files for your device, thereby saving space on your phone.

Please note that only unofficial versions of the game can be a single file and take up more memory on your device.

About the similarity of the versions of Java and Bedrock

The developers of the Mojang studio still continue to work on versions of Java and Bedrock so that they are similar to each other. All functionality and all mechanisms now work differently. Mojang is now fixing this.

Such block as Observer now does not work as fast as it did before.





Fixes



A small number of fixes which in our opinion are more significant:

1. General fixes for minor bugs and crashes;
2. Fixed a bug due to which many players could not get water from the Bubble Column;
3. Fixed a bug due to which the Character Editor did not save character changes;
4. Mobs that spawn on magma will again be damaged.
Minecraft 1.15.0.53 for Android