Dead Box (Parkour – Survival – PvP) Map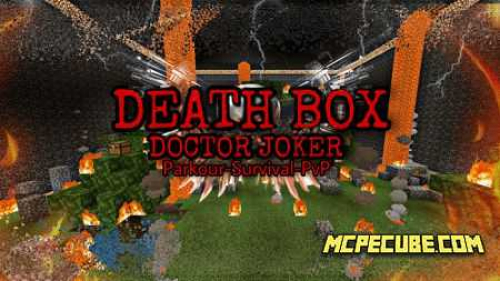 Do you like mini-games in the Minecraft world like PvP, parkour, or survival? If yes, then you will be interested in a new mini-game and a map with new challenges. Here players can simply fight against each other, or play parkour and survival. The new map is a big death box where players need to survive using all their survival skills, fighting skills, and parkour. This map is a new experience for players who like different challenges and difficulties, since it will not be easy here at all, this is a rather difficult survival game.

Let's take a look at the features of the new map below.

The first thing to start your adventure with is a special room, a kind of lobby where you can equip yourself and take everything you need for survival and battles. Please note that the main task of the players is to kill all hostile mobs that spawn on this map and find all the chests hidden in different places. Your parkour skills will come in handy as many of the chests are in trees and in various other places.

Find chests and open them, but be careful, here you will be attacked by hostile mobs both on the ground and in the air. Also, in addition to hostile creatures, you may be threatened by such dangers as lava and fire.

This map also supports such addons as:

1. Star Wars (for fans of the Star Wars universe). Epic battles of different factions, mechanisms, monsters, and creatures. Video of this addon:

2. God of War. Battle with titans and gods. Video of this addon:

So, if you are confident in your skills and strength, then it's time to start your survival. Equip yourself in a special room, then kill all creatures that will spawn. Please note that all creatures are hostile and will try to kill you. Use all available weapons.

Please note that in the chests that are scattered in different parts of the map, you can find various useful loot, the more difficult the chest is, the better the loot will be found. In other words, your chest loot depends on the location of the chest. Below you can see an example of a chest that is easy to find:



As mentioned earlier, players will also need to use their parkour skills, but do not forget that you will always be in danger:



Parkour on this map can be very simple in places, and vice versa, very difficult. In addition to various difficult jumps, various mobs will also prevent you from jumping.

We also talked earlier about the fact that players here can play with their friends. How does it work? Everything is very simple. To do this, players first need to kill all the mobs, for this use the command /kill @e. After that, share with the players on different sides and start your battle. This map is a great place for battles as your battle here will not be as easy as in simple and boring maps.
Dead Box (Parkour – Survival – PvP) Map