Party City Map for Minecraft PE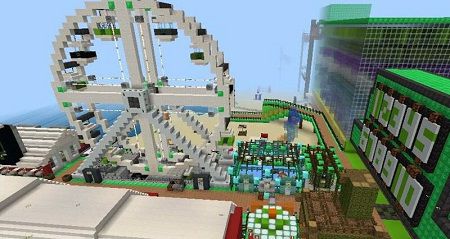 If you want to relax in Minecraft and hang out somewhere, then we suggest that you familiarize yourself with the selection of Party City maps. Among the assemblies there are locations with cities, amusement parks, attractions and much more for a fun game alone or with friends.

Carnival

A variety of attractions are built on this map, which together represent a huge carnival site in the Minecraft world! You can do whatever you want, explore locations like the ferris wheel, ride roller coasters, play games, compete.

For each attraction you pass, you get tickets that can be exchanged for emeralds.

If you are hungry then go to the food court and eat something tasty. Emeralds can be exchanged for food.

The author notes that if you are playing on a weak device, then it is better to disable entertainment with a complex mechanism in the settings so that the performance of the game does not deteriorate.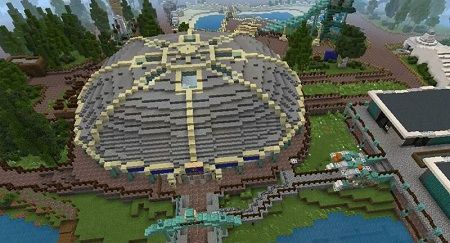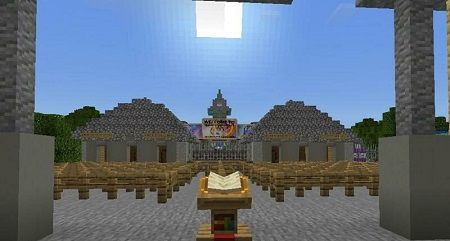 Thorpe Park

This amusement map is based on the popular park in England, Thorpe Park. The author has posted more than 40 attractions, ranging from roller coasters to water rides. Each participant in the game will express their emotions and experience a surge of happiness like a child.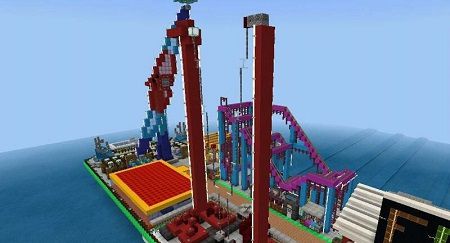 Las Vegas

If you have always dreamed of visiting the famous city of entertainment and the capital of gambling, Las Vegas, then with the help of this card your dream can become a reality.

This map is a unique collection of the most interesting places to visit. To make it convenient and interesting for you, the author of the map did not make an exact copy of the city, but selected the brightest and most fascinating places.

This map features an impressive array of skyscrapers, public utilities, infrastructure, and more to make your Las Vegas experience unforgettable. You can plunge into the atmosphere of this city of entertainment and feel its special charm.

The author created on the map unique places in the suburbs of Las Vegas so that travelers can enjoy the beauty of nature and the atmosphere of solitude.


Party City Map for Minecraft PE