TT Armored Vehicles Add-on 1.20+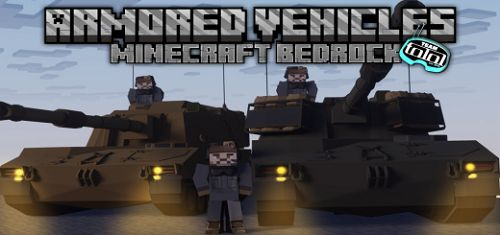 The TT Armored Vehiclesaddon introduces a realm of Combined Arms Warfare on land, designed to enhance both Survival Mode and Creative Mode gameplay within the Minecraft universe. With these powerful vehicles at your disposal, you can roam your Minecraft world with formidable tanks, safeguarding yourself from perilous threats in Survival Mode.

Alternatively, you can craft your personalized war scenarios utilizing these tanks in Creative Mode, shaping epic battles and immersive experiences. For those seeking social engagement, invite your friends to join in multiplayer mode and engage in thrilling tank battles, making it a memorable showdown with your favorite armored vehicles.



Key Highlights:

- Ammunition System: Unlike G&P:MW with its unlimited ammo, this addon introduces a realistic ammunition system for vehicles and tanks, adding a strategic dimension to your gameplay.

- NPCs: Elevate your tank's functionality by transforming them into NPC tanks, allowing them to operate independently, engage enemies, and navigate the terrain with autonomous freedom.

- Team Color: Unleash the spirit of competition and camaraderie by inviting your friends to join the battle. Formulate alliances or declare war by assigning different team colors, creating a dynamic and engaging multiplayer experience.


TT Armored Vehicles Add-on 1.20+