Monster House Add-on 1.20+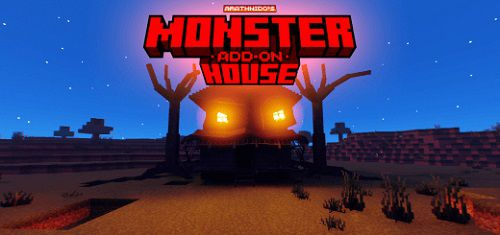 As the Halloween season maintains its grip on Minecraft, seize the opportunity to acquire the Monster House addon, your ultimate defense against the forces of darkness. This add-on introduces a formidable new boss into the game, accompanied by a multitude of fresh adversaries that will emerge within your world. The rewards they offer make the battle worthwhile.

To begin your quest, the initial step involves crafting a Monster House, with the crafting recipe thoughtfully provided below. Once accomplished, proceed to deploy the crafted item on the ground and exercise patience for a span of 10 seconds.





Boss



Has three stages.



1 stage



• Has 2500 Health.
• Deals 12 damage.
• Opponents will appear every half minute.





2 stage



• Has 1250 Health.
• Deals 18 damage.
• Sometimes attacks with fireballs.
• Can change position and move.



3 stage



• After death, he is reborn after 10 minutes.
• To destroy you need a bomb.
• Drop: various items with effects and weapons.



Enemies





Monster armor stand



• Has 80 Health.
• Deals 8 damage.
• After death, he gives a pumpkin for decoration, a gold sword, and a gold ingot.



Monster Chest



• Has 12 Health.
• Deals 4 damage.
• Drop: planks.



Monster Furnace



• Has 35 Health.
• Attacks with fireballs.
• Drop: fire.





Monster Bookshelf



• Has 100 Health.
• Can summon book monsters that deal 7 damage. And they have 8 health units.
• Drop: Book



Decorations



Furthermore, this expansion introduces a variety of fresh decorative blocks, with many of these blocks craftable through the Crafting Table. This includes novel pumpkin varieties that can be adorned with torches, and all these additions are conveniently manufacturable via the Crafting Table.



Dead tree sapling

• Growth is accelerated with bone powder.
Monster House Add-on 1.20+