Infinite Desert Add-on 1.17+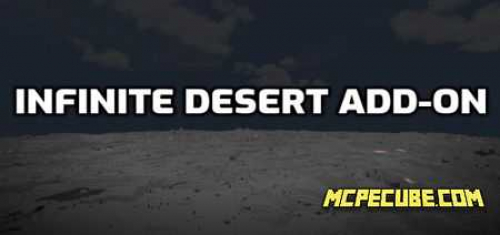 Have you previously used an old addon called Endless Desert Biome? If yes, then you probably know what it does with your Minecraft world, but for those who don't know, this addon turned your world into one big desert of stone. Unfortunately, since this addon has not been updated, it has become obsolete and incompatible with new versions of the game. That is why we present you with a new version of the Infinite Desertaddon that will change your Minecraft world, namely, make your world one big desert.

If you like difficulties or different challenges during survival then this addon is exactly what you need. Use your survival skills and try to survive in the desert without any plants or food resources.

In the desert of your world, you can find a village, but we draw your attention to the fact that since the village is an element of the game, unfortunately, the buildings in it are all made of oak and do not quite correspond to the desert villages.



But that shouldn't be a big deal.

Below you can see a part of the desert from above (very beautiful):



As you can see, you can find water sources in the desert, you may need them to get sugar cane.

And some other places like a wrecked ship and a small oasis:



Don't forget to activate the Experimental settings!
Infinite Desert Add-on 1.17+