Survival Helicopters V1.0 Add-on 1.18+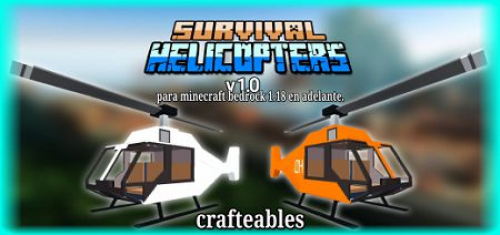 Add to your world the ability to quickly move around the world in the sky with the Survival Helicoptersaddon for Minecraft Bedrock versions 1.18+. It's easy enough to manage. Available in two shades.

This add-on can be used on any server and combined with other add-ons due to the fact that the author does not use player.json.



Description



The helicopter is fully functional. You can also store items in it, which is very convenient.
Helicopter control is quite simple. Look up to take off, look down to land or descend.
To use the helicopter's inventory, you need to Crouch and the "Open" button will appear.
Two colors are available: white and orange.



Recipes for crafting items to create a helicopter are given below.


Survival Helicopters V1.0 Add-on 1.18+