Minecraft PE 1.20.32.03 for Android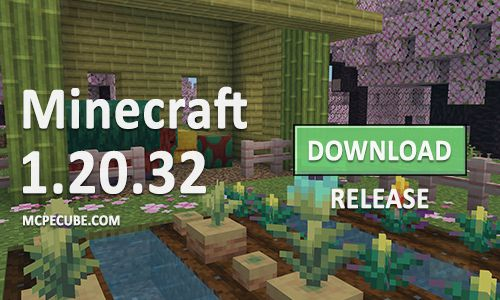 You have the option to download the most recent version of Minecraft Pocket Edition (Bedrock) 1.20.32.03 for your Android device and indulge in smooth gameplay. This release has resolved 4 bugs.

Developers have announced three new mobs, one of which will be added to Minecraft as a result of the voting at Minecraft Live. In the meantime, we've been presented with a hotfix containing 4 urgent bug corrections.

Bug Resolutions

Four issues have been addressed and rectified. Specifically:

- Amended text representation involving the "§" symbol on iOS gadgets;
- The keyboard persists in operating after deploying Signposts;
- Mobs no longer materialize on partial blocks;
- Acquired items within the Marketplace stay retained in the account.

Version Bugs

Developers were unable to fix 1 bug. More details:

Collaborative gameplay on Playstation causes a failure at the moment of character death when quick respawn functionality is activated.
Minecraft PE 1.20.32.03 for Android