Minecraft PE 1.16.210.59 for Android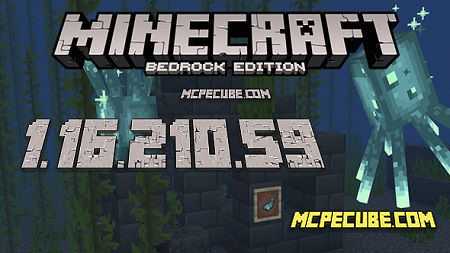 A new test version of
Minecraft PE 1.16.210.59
for Android devices was released yesterday. Glowing Octopuses, Glow Ink Sac, and new frames have been added to the
new version
of the game! And again, the Mojang developers began to add new content to the Minecraft world, which means that with each new release of test updates we are getting closer to the full release of the Minecraft PE version of the game. After a series of releases of beta versions of Minecraft, in which Mojang was busy with bug fixes, the new update really has something to see!
Please note that in order for players to have the opportunity to test new content, do not forget to activate
the Caves and Cliffs
slider in the map settings.
Let's take a look at the features of the new update below.
Features of Minecraft 1.16.210.59
First, we'll look at a new creature called the Glow Squid. This mob differs from the simple versions only in that it glows. The creature will only spawn in cave waters. It is possible to spawn this mob using the spawn egg. Upon death, these mobs drop glowing ink. Doesn't appear naturally at the moment.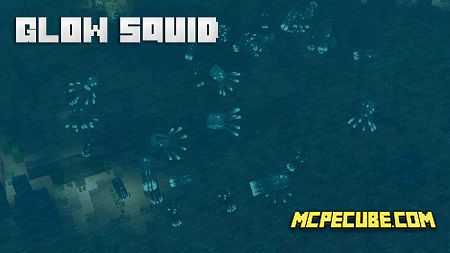 The next thing that has been added to the Minecraft world is Glowing Frames. This is a new material that players can apply to the frame and then it will glow. To do this, use a simple frame and a new octopus ink on the crafting table. Also, players can use Glow Ink Sac to craft new frames that will highlight items on them.
Other changes:
1. Now players can color the text on the frame using dyes;
2. Players need to use Glow Ink Sac to highlight the text on the frame;
3. To remove the glowing effect use a simple Ink Sac.
New bug fixes
:
In total, only twenty-three errors were fixed. The most interesting are below:
1. Fixed a bug due to which the game crashed near villages on Dedicated servers;
2. Fixed a bug with an incompatibility button on the inventory screen in the Marketplace of the game;
3. Fixed a bug with animation of structures. This bug appeared when the chunks were loaded and the animation was not loaded;
4. Navigation of skins using the controller;
5. Fixed a bug that occurred in the game and led to a crash from the game after exiting the world;
6. Fixed a bug on touch devices due to which the destruction of blocks was interrupted;
7. The fog is displayed correctly in the Nether world;
8. Due to broken biomes while loading various worlds from the Marketplace of the game, the gamers' worlds crashed;
9. Command blocks no longer block numbers;
10. Fixed a bug due to which the list with the list of changes was displayed several times;
11. Fixed a bug due to which the Change of Sheets achievement was opened when creating a bed using a crafting recipe book.
Minecraft PE 1.16.210.59 for Android