Minecraft PE 1.17.30.04 for Android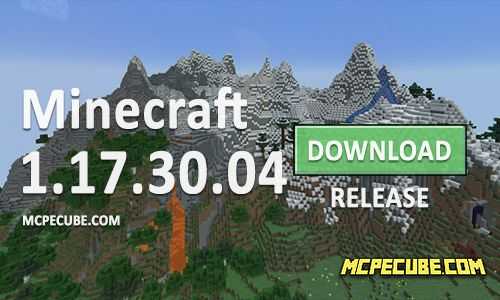 Welcome to our website dedicated to one of the top games of our time, namely Minecraft PE! We present to you the new release of
Minecraft PE 1.17.30.04
which the developers of the studio Mojang have already released for all users of devices with the Android operating system. In this
update
, the Mojang developers have fixed over 120 different bugs and made over 10 different changes.
Yes, this seems like a big update, but it's worth drawing your attention to the fact that most of the changes were carried over from the test versions of the game.
Below you can see a list of current changes that have been added to a number of others in Minecraft.
Features of the update for Minecraft PE 1.17.30.04
So the first thing worth paying attention to is the new functions that have been added to the game. In general, the developers have added two settings, including:
1. Added a setting called Explosion of Respawn blocks. Setting prevents Respawn Anchor or Beds from exploding;
2. Added the Corner Mode for the Structure Block. It is used when designating an area to be saved.
The next update feature is Experimental Features. In total, twelve new improvements have been added for Experimental Mode. You can see the most interesting things below:
1. Mobs will spawn only in complete darkness;
2. The generation of terrain and ore has been improved;
3. Added Spaghetti Caves. These are winding passages between large caves.
What almost every player is interested in: Parity with Minecraft Java!
Yes, this is a really important topic and it is important to know that in the new update six new fixes have been made for the parity of the versions of Minecraft PE and Minecraft Java. Most significant:
1. The player will no longer wake up on blocks that can cause damage;
2. Now the player will wake up on the same side of the bed on which he went to sleep initially;
3. Abandoned villages will be less common in the Minecraft world;
4. Bow and Trident now look the same as in Minecraft Java.
And now the most important thing in our opinion is, of course, fixing bugs. In general, Mojang fixed as many as 154 bugs, but as mentioned earlier, some fixes were added from previous test versions. Below you can see the most significant bug fixes:
1. Damage from negative effects does not bypass the Absorption effect;
2. The display of signs on the map has been fixed when the RTX setting is turned on;
3. Amethyst Cluster can no longer be placed on a Dirt Path block;
4. Fixed bugs with the user interface;
5. The display and operation of the Server Menu has been improved;
6. The server list will load faster;
7. If the server list has been loading for a long time, a loading indicator will appear.
And the last feature is new technical changes. These changes relate to the technical aspects of the game. In total, we added 60 technical changes for the development of add-ons in Minecraft.
Minecraft PE 1.17.30.04 for Android