Minecraft PE 1.17.40.21 for Android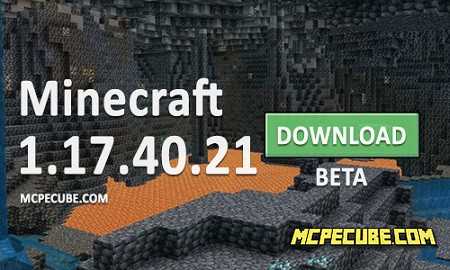 We are glad to welcome you to our website dedicated to Minecraft! Mojang developers have again released a new test version of Minecraft PE 1.17.40.21 and, as always, this test version is already available for users of Android devices. The new update brings five new world-generation improvements, fixes over ten different bugs, and adds seven technical changes. Below you can see in more detail the features and description of this update.



Description of the update for Minecraft PE 1.17.40.21



The first part of the update consists of the changes presented below that relate to world generation. Overall, five new experimental features have been added to the game:

1. Generation has been improved when updating caves below the Y = 0 level with the activation of the Caves & Cliffs slider. Previously updated chunks will not change;
2. The height of the old flat worlds was increased;
3. New flat worlds will be generated from the Y = -64 level;
4. The flights at the maximum altitudes of the worlds have been fixed;
5. Copper ore is generated up to Y = 96, instead of Y = 64.

The second part of the update is bug fixes.

In total, the developers have fixed seventeen bugs. Below you can see the most significant bug fixes in our opinion:

1. A bug with ghost plants and a layer of snow has been fixed;
2. The faster-spawning of Bee Nests has been fixed;
3. Now mobs will avoid fire;
4. Now you can open the Elytra when moving up;
5. Reduced the chance of generating and destroying Fossil remains in structures;
6. The disappearance of caves when the Caves & Cliffs function is disabled has been fixed;
7. Now Iron Golems spawn only on solid blocks;
8. Incorrect display of weapons for such mobs as Pillager and Vindicator has been fixed;
9. Fixed buttons when riding animals;
10. The Character Editor also received improvements:

- The character's clothing will no longer cover the left and right arrow buttons;
- The color change of clothes, if the color changed before, has been fixed;
- Navigation has been improved;

11. Now the skin from the Minecraft Marketplace will be applied to the character right during the game.

And the last change concerns exclusively the technical aspects of the game, for the development of add-ons and testing in Minecraft.

In general, seven technical changes were added to the game, among which the most significant, in our opinion, is the following:

- Temporarily removed RenderDragon engine on Android (ARMv7)!
Minecraft PE 1.17.40.21 for Android