Minecraft PE 1.18.10.21 for Android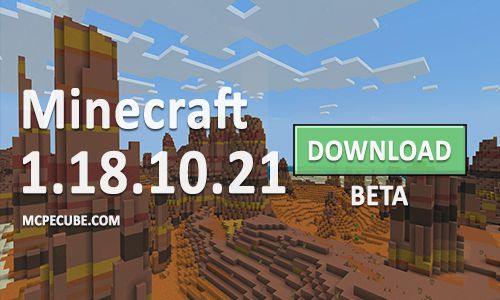 The Mojang Studios team has released a new beta version of Minecraft 1.18.10.21 for Android. This update includes some bug fixes and new changes. The peculiarity of this release is that this is practically the first test version of Minecraft 1.19, since the experimental function "Wild Update" has been added.



Experimental function



The creators added a parameter to the game that can be activated to test a future update - "Wild Update".

New opportunities:

New Skulk blocks will be added to the game.
Already in the next versions will add elements from the "Wild Update".



New changes



The developers have added 4 new innovations to the game.
Version equality: Decorations in cave biomes are generated in the same amount as in the Java Edition.
Now the brightness of the Light block will change on all devices, including touch devices.
To take / pick up an object, you need to jump over the block.
Added warning message when installing external storage.



Fixed Bugs



In total, 17 errors were resolved. Among them:

1. Wasteland caverns no longer have flat ceilings.
2. Fossils no longer hang in the air in a cave or water, and appear at the bedrock level in the same place as Deep Diamond Ore.
3. Shafts appear above the bedrock layer.
4. Fixed an issue with the animation of blocking with a shield in the first person.
5. The animation of walking axolotls is influenced by speed.
6. Wolves now react correctly to receiving damage.
7. Water Lilies are not generated in the caves under the swamps.
8. Items in the Furnace are now smelted without any problems.
9. It is impossible to teleport if the designated location is blocked.
10. After winning a raid, a victory message appears in the bar and fireworks are emitted.
11. Established control with joysticks in the menu.



Technical changes



12 technical changes were made to the game for testers and mod developers. Also improved the performance of the game when executing some commands.

Be sure to back up your worlds when testing the version.
Minecraft PE 1.18.10.21 for Android