Minecraft PE 1.18.10.27 for Android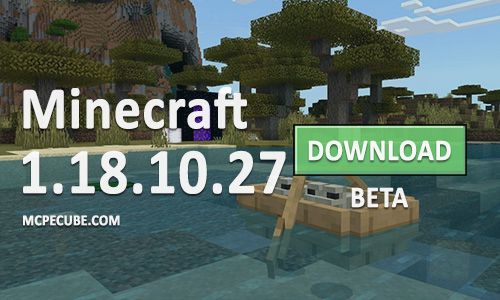 Friends, as you already know, every week the developers release new game updates and this week is no exception. The new beta version of Minecraft PE 1.18.10.27 for Android is already available for download.

In this version, 14 bugs in the game were edited and 12 changes were added that relate to the technical part.



What were the bugs fixed?



Mojang Studios worked on 14 bugs that affected gameplay.

1. Goats will be able to live in peace, as frogs no longer eat them.
2. The problem with missing inventory cells has been resolved.
3. The cocoa fruit remains intact when placed on the periphery of the chunk boundaries.
4. Polyhedral blocks are generated correctly in the structural block.
5. In storage, the observer block is deactivated if destroyed during variable operation.
6. Other objects are not obstructed by the picture.
7. The structure where the robbers live now generates the correct number of Rogue mobs and Iron Golems.
8. If the player is on the boat for a long time, the spoon does not disappear.
9. The color of the oars is identical to the color of the vanilla Minecraft boat.
10. Now you can put on the leash on the wild Cats.
11. In this version, Guardians and Ancient Guardians will not drown during that attack.
12. Cells in creative mode work without bugs.
13. Fixed the frequency of appearance of Chests and Spawners.

Technical changes

This time there will be 12 points in the game, the basics of which relate to tested and development of modifications.

Attention! This is a test version, so don't forget to make copies of your worlds.
Minecraft PE 1.18.10.27 for Android