Minecraft PE 1.18.20.23 for Android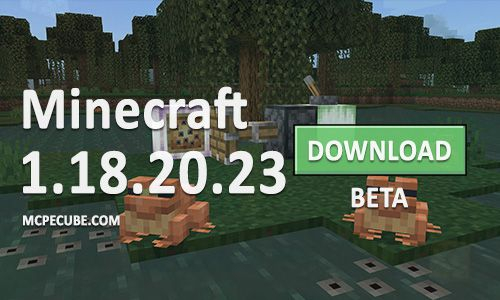 The new beta version of Minecraft 1.18.20.23 is already available for download. The developers of Mojang Studios made several changes and fixed a number of bugs that broke the stability of the game. In addition, added technical changes for developers of modifications and testing.



Experimental changes



For the most part, all the changes are related to the mob Frog, Frog Spawn and Goat Horn.

* The jump animation of the Frog mob appears only during the action itself.
* In order to breed frogs, the player will need a slime ball.
* Changed the health of the amphibian, now it is 6 hearts.
* Adjusted the generation of creatures in swamp biomes.
* Mobs correctly jump onto small blocks like water lilies.
* Frog eggs die from falling block, lack of water and piston action.
* You cannot use the /fill command to place frog spawn above the ground or under water.
* The Goat Horn item in this version has a cooldown after use.



Errors



* An issue that caused custom skins to not be saved in the wardrobe has been resolved.
* Drowned people are only generated in locations where the light level is above zero.
* All functions of the test versions of the game are saved if you re-enter the game.
* Boiler will not be filled from drippers below water level.
* There is a button to put on armor from add-ons in this version Minecraft.



Technical changes



Added 9 technical changes for modders and testers.

Don't forget to make copies of worlds when uploading test versions.
Minecraft PE 1.18.20.23 for Android